"Bread pudding is THE thing" according to Tom Gumpel, former VP of Research and Development at Panera Bread. Eleven years ago, I was at a blogger bread workshop led by Mr. Gumpel. The Asiago bread that he made was the first savory bread pudding that I remember tasting.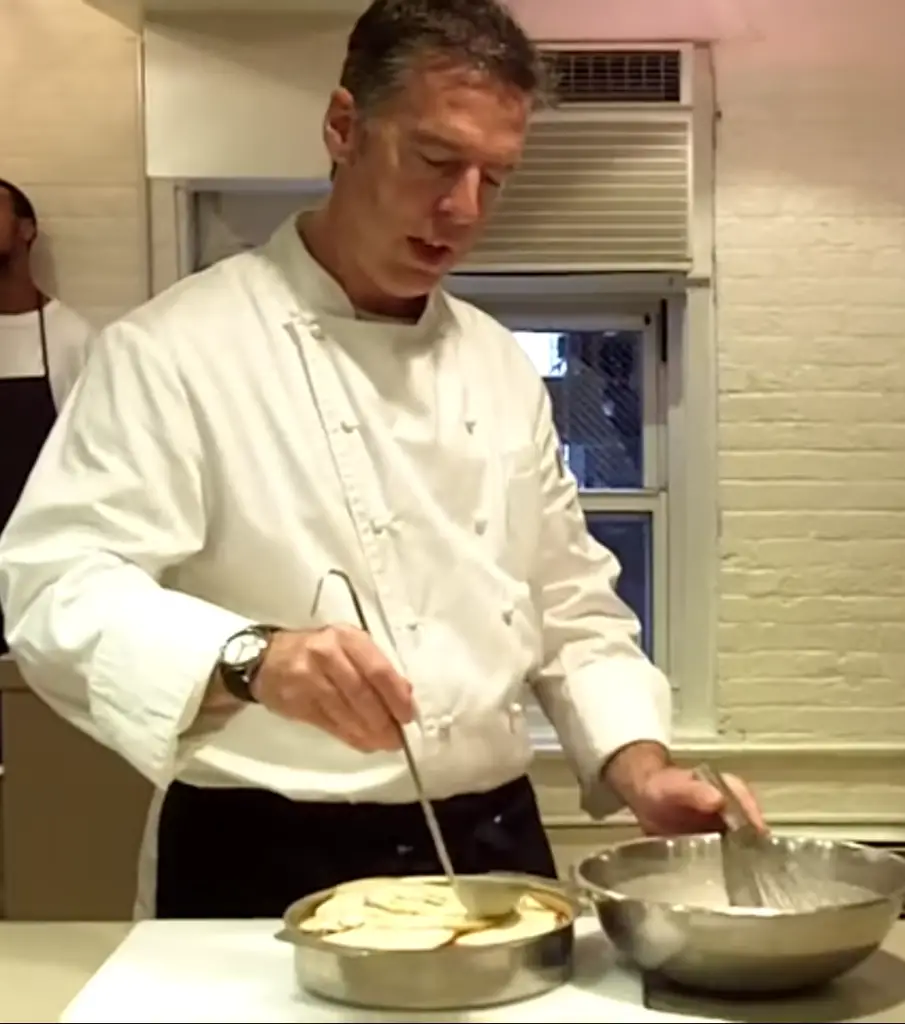 The bread pudding image popped up in Facebook memories last week so I want to update this post and share the Asiago strata recipe with newer MitC readers. (The post below was originally shared on 10/27/10.)
Earlier today, I went to a workshop that was sponsored by Panera Bread. Beforehand, I liked bread well enough, but it wasn't really my thing. Unlike "my guys" who are bread lovers, I could do with it or without it. I was really going for them.

Oh my goodness…my perception of bread has been forever changed after sampling bread prepared by Tom Gumpel, the Vice President of bakery development for Panera Bread. The aroma of the breads – especially the bread pudding – was heavenly. I just wish that someone could come up with 'scratch and sniff" technology for web photos and videos.

Anyway, I enjoyed myself so much that I will be dedicating the posts for the next three days to the event. Today, I will share the video and recipe for savory bread pudding. On Friday, I will share the video and recipe for the chocolate babka. Lastly, I will write about bread pairings on Saturday.
When Tom mentioned that the first recipe that he would be sharing was for bread pudding, I was suprised. I knew that we would be making chocolate babka later so I wondered (to myself) why he chose to make two sweet breads.

I thought that bread pudding was the familiar sweet dessert that I grew up with in Virginia. It turns out that there are many different types of bread pudding thoughand the one that Tom prepared was a cheese one – an Asiago cheese bread recipe.

In a word…YUM! You can see for yourself in the video below. I am also sharing the recipe after the video so that you can make this savory bread pudding for your family.
Asiago Bread (Savory Bread Pudding)
ASIAGO STRATA
Courtesy of Panera Bread
Serves: 6-8 people

Assembly time: 10-15 minutes
Bake time: 35-45 minutes
Ingredients:
2 tablespoons sweetened/salted butter (soft)
1-1/2 cup milk
1 cup cream
3 whole eggs
pinch of salt
pinch of cracked black pepper
1 loaf (18 ounces) Asiago bread
1 cup Asiago cheese, shredded (or other cheese shredded)
Directions:
-Preparation: Pre-heat oven to 325 degrees F. Brush the sides and bottom of 8" baking dish or casserole dish with softened butter.
-Custard: In a large mixing bowl, whisk together the milk, cream, eggs, salt and pepper and set aside.
Assembly
-Cut the Asiago bread across the loaf in thin, even slices, approximately ¼ "thick. Start assembly of the strata by placing bread slices on the bottom of the dish until bottom is completely covered.

-Sprinkle shredded Asiago cheese as necessary on the bread slices to cover completely. Cover with another layer of bread slices and sprinkle cheese on top, again covering bread slices completely.
-Continue to build the strata for as many layers as dish allows, then pour custard mixture over top of strata.
-Cover the strata and refrigerate for 15 minutes, allowing the bread slices to soak in custard mixture.
Baking
-Place the strata pan on a cookie sheet to catch any dripping of the custard. Set the strata in the center of the pre-heated oven and allow to bake for approximately 35- 45 minutes. The custard should gain a rich dark color and rise slightly from the pan (it will settle after removal from the oven).

-Carefully remove from the oven and set aside to cool for 15 minutes before unmolding.
Service
-Carefully invert the strata by placing a 10" plate over the top of the pan and slowly flip the plate and pan over together. Place on the counter and allow the strata to fall from the pan onto the plate. If the strata does not release from the pan, cut around the sides of the pan and try to invert again.
You can serve this savory bread puddng hot or warm. This Panera Asiago bread is great alone or as an accompaniment with meat and vegetables to fill out the meal.
If you found this post helpful, please share it.