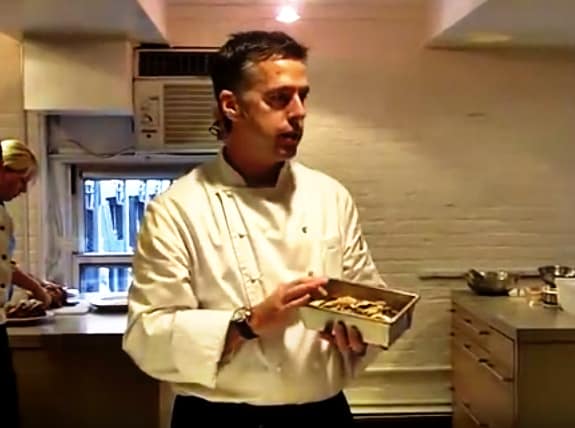 As promised on the previous post, "Bread pudding is THE thing, below is the video and Chocolate Pecan Babka recipe. It is from Panera Bread's Tom Gumpel who led the bread workshop that I attended earlier this week. Enjoy!
CHOCOLATE BABKA WITH PECANS
Panera Bread Chocolate Babka Recipe

Makes: 3-5 Babkas
Assembly time: Dough 20 minutes (not including rest times), fillings 15 minutes each
Final Babka: 15 minutes
Bake time: 25 -35 minutes
Dough Ingredients
5 oz unsalted butter (soft)
5 oz sugar
5 oz whole milk
5 oz water
5 oz whole eggs (That would be Eggland's Best eggs for me this month!)
1 lb 13 oz bread flour
1 tbsp dry instant yeast
¼ oz salt
Chocolate Ganache Filling
8 oz semi-sweet chocolate (finely chopped)
4 oz heavy cream
1 Tbsp corn syrup
Pecan Topping
1 lb pecans (coarsely chopped)
Egg Wash
1 egg
1Tbls milk
Pinch salt
Dough Instructions
In a separate mixing bowl, combine the flour with the instant dry yeast using a hand whisk.
In the bowl of a stand mixer, combine all other ingredients. Place the flour mixture into the bowl on top of other ingredients.
Turn the mixer on low speed and blend for 2 minutes. After 2 minutes, scrape sides and bottom of the bowl and turn mixer on medium speed and continue to mix for 8-10 minutes or until a smooth, homogenous dough is achieved.
Remove the dough from the mixer and place on a lightly floured table or board. Cover the dough with a cloth to prevent gaining a skin. Allow to rest for 30 minutes.
After 30 minutes, divide the dough into 3-5 equally sized pieces. Round them carefully and place in the refrigerator, covered with plastic wrap.
Ganache Instructions
Heat the heavy cream just until it reaches a boil. Shut off the heat and stir in the corn syrup.
Place the finely chopped chocolate in a bowl and pour the hot cream mixture over the chocolate.
Cover with plastic wrap and let stand for 2 hours or overnight in the refrigerator.
Allow to reach room temperature before using as a spread.
Assembly
Remove the chilled dough pieces from the refrigerator. On a lightly floured table, pin out a piece of dough into a rectangle about the size of a note paper.
Spread about 4 T of chocolate ganache across the entire surface of the dough.
Take a handful of chopped pecans and cover the surface of the ganache evenly.
Starting from the top downward, begin rolling the babka piece into a cylinder –shape.
It should now be a cigar shape with the chocolate filling tucked inside.
Taking a sharp knife, cut down the middle of the cylinder pressing all the way to the table.
You will now have two halves of the cylinder separated.
Begin by twisting the two strands together into a simple braid.
Place babka onto a paper lined sheet pan.
Brush the babka carefully with egg wash and sprinkle pecans as a garnish.
Place in a warm area and allow to rise for two hours, brush again (carefully) with egg wash and place it into a 350 degree F oven.
Bake for about 25-35 minutes or until evenly mahogany brown.
Serve warm or at room temperature.