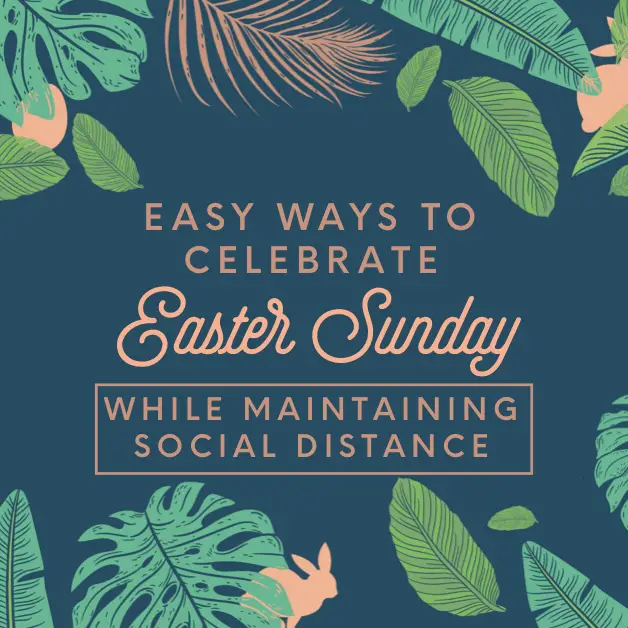 Easter is this Sunday, April 12th. Easter (also called Resurrection Sunday) is a special day for Christians because it commemorates the resurrection of Jesus from the dead. I am a bit sad that COVID-19 stay at home orders will impact our Easter plans this year, but it won't stop my family from celebrating the holiday. We will still celebrate Easter. We won't be in a physical church though – faith and wisdom (to follow reasonable medical instructions during a global crisis) are both from God!
Anyway, I want to share my plans for celebrating Easter this year. Hopefully, you can use some of these ideas to make your Easter holiday feel special during this time of social distancing too.
Celebrate Easter With Favorite Dishes
Food is a memorable part of Easter celebrations. I usually host a brunch for family and friends after Easter church service. I usually make whatever my husband, sons and father-in-law want. Last year, we had deviled eggs, quiche, string beans, yellow rice, ham, fried chicken, biscuits, sweet potato pie and apple pie. (We may have had a salad too. I don't remember because I didn't take a picture of everything.)
We'll probably have similar menu this year. There are a couple of limitations though.
I'll have to see what's available at the grocery store. (People are shopping like crazy folks these days!)
Our oven broke so it only cooks things for around 30 minutes. With that in mind, I know that I'll be cooking a ham steak instead of a full ham.
Takeaways: Keep your menu simple. Cook what the people in your home enjoy eating. Also, if there is anything that you can make ahead, do so. Life "safe at home" has enough pressure. Don't add more.
Easter Church Services
Physical churches have been closed. No in-person church gatherings are allowed to celebrate Easter. (Well, there are exceptions, but my personal opinion is that it's foolish to go to one.) Thankfully, in the Christian faith, the church is not a building. It's a group of people who live according to God's will. While I will miss the group fellowship, church will be at home.
My family will be streaming Easter church service online from my church's website. My husband Reggie and I oversee our church's Children, Pre-Teen, Young Teen and Teen ministries so I am disappointed that our team won't be able to do the age-appropriate lessons, crafts, treats and Easter egg hunt for the youth.

This is a great opportunity for parents to be creative about making Easter special for their own kids though. You could even host a virtual Easter egg hunt. Ideas are just a google search away. If you need help making things age-appropriate, you can also send me an email. I have been doing children's ministry in various capacities since I was 21 (?!)
Takeaways: Have your own Easter message at home or stream a church service. Remember to make Easter special for the kids.
Connecting With Family and Friends
As I mentioned, we usually attend church service and have a meal at our home on Easter. In addition to Reggie's dad, we often have friends over to enjoy an Easter meal with us. Obviously, that is not happening this year. We are going to drop off a meal for my father-in-law who lives near us though. We will just leave it outside on his porch (like delivery people are doing) and wave from our car. Wow…these really are strange times!
Later in the day, Sean will be on a Zoom call with some of his friends. The rest of my family has been on many Zoom calls with friends and family this week. We are fine. After throwing a surprise virtual birthday party for my mom with my siblings yesterday, here's a virtual connection tip – use Facebook Messenger to connect for video calls with up to 8 people. It's SO much easier to use for people who aren't especially tech-savvy if they already have the app.
An especially great thing about video calls is that you get to "see" people whom you haven't seen in person for years. I remember when video phones were super expensive. Now, there are so many free options. TechRadar has a helpful post about choosing a platform to use on their post, Best chat apps: the top ways to video call your friends and family. There are definitely advantages to being "safe at home" now rather than many years ago. That's for sure!
Takeaways: Connect to family and friends in safe ways. Use technology as a tool to make special memories.
Whatever you do (or don't do) to celebrate Easter…enjoy the day with the ones whom you love!
You Might Also Like