True confession: I rarely take my kids' temperatures when they are sick. Rather, I just feel their heads and body in order to make my "diagnosis". "He's regular" or "He's a little warm" are my two usual verdicts. Fortunately, neither of my kids has been extremely sick, so this hasn't been that much of an issue.
The reason I don't take temperatures is that I cannot read a regular thermometer at all. I still have no idea what red line people who can read them are looking at. (My husband laughs at me when I can't do simple things like this. "So, that's what a Columbia education gets you…" is the running joke. Oh well, I can figure out other things!) I did have an electronic thermometer at one point. It worked pretty well when the kids weren't fidgety/kept it in their mouths long enough, but then it broke.
At the boys' last doctor's visit, the nurse used this really cool thermometer where he just briefly touched the kids' heads. This was the first time that he hadn't used an oral or rectal thermometer. I was intrigued and asked him about it. He said that it was some new technology, but that it was really expensive.
The nurse was wrong. There's a new temporal artery thermometer called the EXERGEN TemporalScanner™ that does the exact same thing! This technology is the least invasive, fastest and most accurate way of taking temperatures. I was sent one to review and it is now an indispensable part of my "Dr. Mom" kit.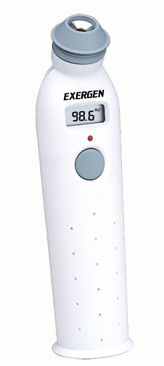 It's so easy to use. You simply put the device flat against the center of the forehead; press and hold the button; and then you slide the thermometer across the forehead until you reach the hairline. You will hear a beeping sound and see a flashing red light showing that the temperature is being taken. You then release the button and read the temperature on the display. I tried it out on myself and both of my sons. Fortunately, none of us have fevers at the moment. I could see how sensitive the technology was though, because I took each of our temperatures twice. Both Sean and I were at 98.1. Michael started off at 97 but after running around a bit (as he often does), I took his temperature again and it was 99.5.
A swipe across the forehead – temperature taking can't get any easier than this. It's also reasonably priced ($49.99) and is available at a variety of stores including Wal-Mart, Walgreens, Costco, Babies R Us, Toys R Us and Sam's Clubs around the country. I really think that every mom should have this in their "Dr. Mom" kits!