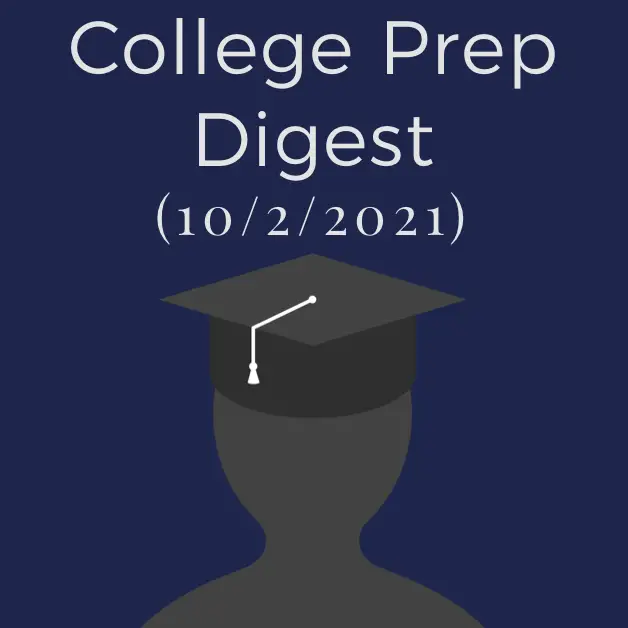 If your teens are like mine, then they have started to get invited to college fairs and open houses. Many colleges are also offering visits both virtual and in-person. It can be a lot.

As I mentioned in an earlier post, I will be sharing "college prep this week" information on Saturdays. This week, I want to share about the Free Application for Federal Student Aid (FAFSA), a super helpful library resource and a couple of upcoming college fairs.
2022-2023 Free Application for Federal Student Aid (FAFSA)
The 2022-2023 Free Application for Federal Student Aid (FAFSA) opened on October 1st and is now available. It determines student eligibility for grants, scholarships, work-study programs, and federal student loans.

It is important to complete the FAFSA in order to submit it to prospective colleges. (I will be writing a more comprehensive post about FAFSA – including FREE ways to complete it in a simpler way – next week.)
Libraries
Libraries are a wealth of information. I joke that my son Michael was "weaned" at my local public library. I'm not surprised that Michael likes to read because he has been surrounded by books since he was very young.

I love the fact that libraries have valuable programs throughout all stages of life. Some of the most valuable college prep information can also be found at libraries.
In particular, Queens Public Library has a wonderful college readiness program series designed to help teens get ready to apply to college and understand how to pay for it.

I attended their "Is College for Me?" webinar that I had mentioned on my "Get Into College NYC" Facebook page. I was sad that so few people were in attendance at the presentation because the information was really valuable.

The speaker, Ama Kamikari Yawson, Esq. from Milestales Publishing and Training and Development, was excellent. Although she was definitely pro-education, she gave a balanced presentation. She shared the various pros and cons, tradeoffs and tips about the college decision. I even took some helpful additional notes about scholarships and other college funding resources.

I definitely intend on tuning in to future college prep sessions. (Did I mention that the sessions are FREE?) You can view QPL's calendar of upcoming college readiness programs on the Queens Library site.
Virtual College Fairs
Your teen is probably getting several college fair invites. I don't plan on sharing fair information from individual schools. Rather, I recommend that you sign up for information from the various schools that your teen is potentially interested in attending.

I will be sharing about interesting virtual college fairs that feature a variety of schools in attendance though. There are a couple of noteworthy fairs that are coming up soon:

1. The National Association for College Admission Counseling (NACAC) hosts a series of virtual college fairs. One (of the remaining five) will be held tomorrow (10/3). You can learn more on the NACAC Fairs site.

2. The Virtual State University of New York (SUNY) College Fairs begin on October 5th. You can join them on one of the following days: Tuesday, October 5th at 6:00 PM, Thursday, October 7th at 5:00 PM or Sunday, October 17th at 1:00 PM. You can register for one of the fairs at the Virtual SUNY College Fair site.
That's it for this week. If you found this post helpful, please share it. Thanks!