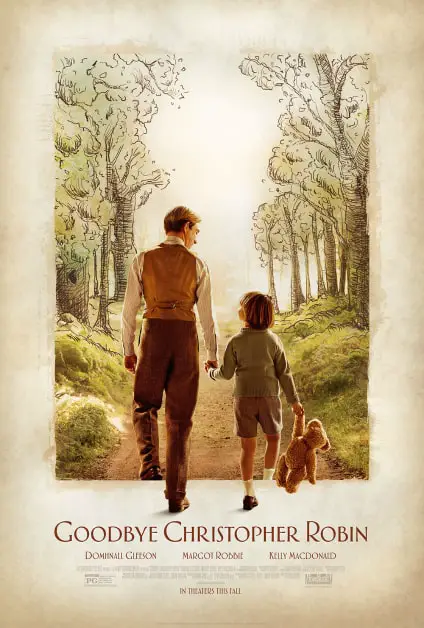 Earlier this week, a friend and I went to an advanced media screening of the new Goodbye Christopher Robin movie. It is the behind-the-scenes story of the inspiration for the Winnie the Pooh book series. I love a great backstory, so I was curious to get a peek into the life of the boy who inspired the Christopher Robin character in the popular children's books that I have loved since I was a little kid. If you haven't seen the Goodby Christopher Robin trailer yet, here it is:
This movie will definitely pull at your heartstrings. Most of you
will
 cry at least once. I won't tell you at what point because it will ruin the movie. You will know though because the rest of the theater will be filled with sniffles at the same time if the screening audience was an accurate representation. This movie definitely did a great job of taking my emotions through a rollercoaster ride. Overall, it's a really great movie. The cinematography was beautiful and the acting was exceptional.
The actors and actresses fully embodied their roles. The father (Domhnall Gleeson as A. A. Milne) was an amazing actor. You could see the effects of the war that he had fought in. It made me realize how seemingly small things (like balloons popping or fireworks) could trigger battle memories in veterans. His love for his son was also obvious. The times when it was just the two of them together were some of the best parts of the movie. (Granted, as a mom of sons with a great father, I'm a lover of dad-son bonding times.) Will Tilston and his adorable little dimples was perfect as the young Christopher Robin. Alex Lawther, who plays the older Christopher Robin who goes off to war, also did a convincing job. Margot Robbie did an excellent job with the role of Daphne de Sélincoura, the self-absorbed mother. Although she was mostly an absent mom who turned over her parenting duties to the nanny, it was obvious that she loved her son the best that she could. Last, but not least of the main characters, Kelly Macdonald as Olive, Christopher Robin's nanny, realistically played the loving, nurturing caregiver that is most closely associated with motherhood. (In all but the biological sense, she was Christopher Robin's mother for most of his young life.)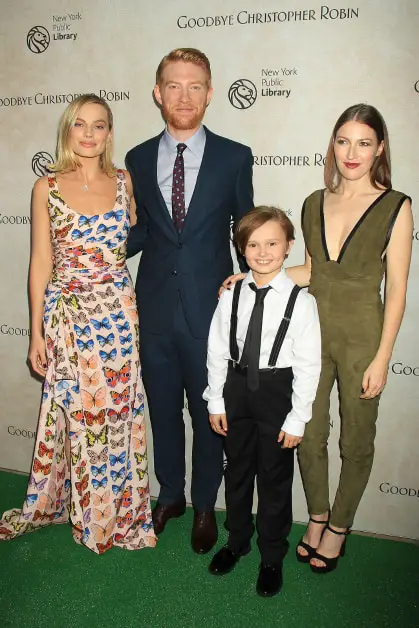 Four Themes That Stood Out in Goodbye Christopher Robin
1. The family is most important to young kids. They want their parents more than anything (fame, fortune, etc.) else.
There is a scene when Milne asks his adult son, "What did you want?" to which Christopher Robin tearfully responds, "I wanted you."
2. Find the thing that makes you happy and stick with it.
Although she was super selfish, this was good advice from Milne's wife. Spending time with his son made Milne happy but he gave that up to pursue other things. Later in life, he tells his son that the time they spent together was the "happiest days of my life'. He just gave them up too quickly and easily.
3. Everything has a hidden cost.
Milne did create one of (if not the) most beloved children's storybook series and Winnie the Pooh did serve as a source of happiness and healing for his country.  Unfortunately, his son paid the price which included losing his childhood and being bullied for many years.
4. War is a racket (most of the time).
I believe that there is a time for war and a time for peace (Ecclesiastes 3:8). However, I think that there would be more times of peace if world leaders had more skin in the game.  I think that if all world leaders had to lead from the front (go to war themselves and/or send their sons or daughters to the wars that they instigate or declare) then there would be fewer wars.  The effects of war on those who have engaged in actual combat are awful. (My family includes three generations of military veterans so I don't have an issue with the military as peacekeepers or even as freedom fighters when there are no longer any other options for peace.)
In any event, I highly recommend that you go and see Goodbye Christopher Robin which is now playing in select theaters. You will laugh. You will cry. You might even leave with a reminder of what (and who!) is truly important in life.
P.S.
After the advanced screening, my friend and I went to a cocktail gathering at the New York Public Library with a variety of people including the cast and crew of the movie. (I didn't know that the original Pooh – along with Eeyore, Piglet, Kanga, and Tigger – have been living at The New York Public Library since 1987!) You can find out more about that exhibit at The Adventures of the REAL Winnie the Pooh library page. My friend was busy getting pictures with the celebrities. Meanwhile, I managed to take a picture with an oversized version of an old friend…Winnie the Pooh. 🙂