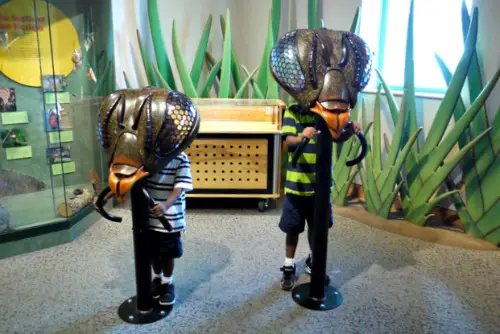 We walked over to the North Carolina Museum of Natural Sciences after breakfast at Big Ed's City Market. The entire family was truly impressed by the museum. (I wasn't sure whether the boys would enjoy it or not, because they have been to so many museums and NYC's American Museum of Natural History is a favorite.) I didn't even need to concern myself though, because they thoroughly enjoyed themselves…flitting from one exhibit to the next. I could barely keep up! I took pictures and videos of the things that impressed them most (including the creepy, crawly living bugs, snakes and such)…
Overall, I would say that the top two things that impressed us the most about the museum were the following:
1. It really was free general admission. This prompted my husband and I to have a discussion about "suggested admission prices" at NYC museums. I wrote about my feelings about the issue on the 33 Free or Pay What You Wish Museums for NYC Families post over on Mom in the City. In brief: "Technically, most museums are "suggested admission" and you don't have to pay the suggested admission fees." However, if you are like me, you feel uneasy getting by on technicalities. The great thing about this museum is that there is no ticket line (except for groups). You just walk right into the museum. I am a strong advocate for all parents being able to expose their children to a variety of experiences without wealth being an issue and museums like this one truly level the playing field. I have never seen such a diverse group of people (age, race, etc.) in a museum on a Saturday. It truly was a beautiful sight to behold!
2. There were many exhibits that catered to a variety of the senses. It wasn't just one of those "look only" museums. There were plenty of "hands-on" exhibits for the kids and adults alike to enjoy. There were even visual instructions to  "See", "Hear" "Touch", etc. various installations. The fact that live animals (snakes, fish, butterflies, etc.) were sprinkled in with the inanimate objects just made the experience all the richer. (Be sure to watch the full video, so that you can see the snakes and bugs moving about!)
I can't express how much I appreciate that this museum is available to all Raleigh, NC visitors. Did I mention that it was FREE? 🙂 Also, be certain to check back tomorrow when I write about the Nature Research Center (NRC), the Museum's new, 80,000 square-foot wing that features research labs. It was another wonderful free experience!