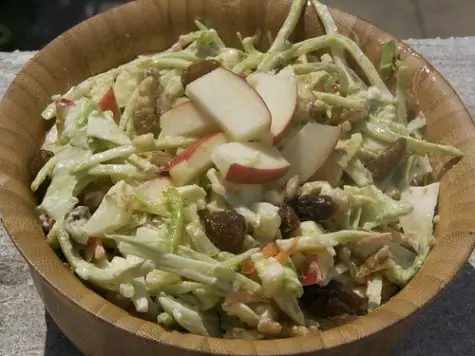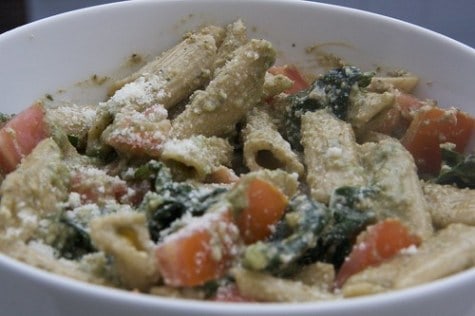 One of the best parts of the summer is the opportunity to spend more time outdoors and to get a group of friends together for a picnic in the park. This relatively inexpensive option is a great way to share some of your favorite recipes as well as sample some of your friend's culinary masterpieces. Although BBQ fare and sandwiches are usually the go-to food items at picnics I really love trying sides like coleslaw, hummus, fruit salads¸ pasta and potato salad, which are usually unique recipes to the person that made them. This week, I made a healthy coleslaw that included a blend of broccoli, cabbage, carrots with apples and raisins for sweetness, a small amount of Nayonaise and some walnuts for a nice crunch. I also made a homemade pesto with whole-wheat pasta, kale, and tomatoes. This easy pesto can also be used in a variety of pasta dishes and makes for great dishes – hot or cold. Enjoy the park and delicious picnic food this summer!
Healthy Coleslaw
Yield: 6 – 8 servings
Ingredients
1 head of cabbage, shredded
1 stalk of broccoli, shredded
3-4 carrots, shredded
2/3 cup Nayonaise or regular mayo
¼ cup of mustard
2 tablespoons of olive oil
1 tablespoon of honey
¼ teaspoon sea salt and pepper, to taste
1 apple, diced (I used a pink lady apple)
¼ cup of crushed walnuts
¼ cup dried raisins (or cranberries)
Directions
Shred cabbage, broccoli, and carrots and place them into a bowl.
Mix Nayonaise (or regular mayo), mustard, olive oil, honey, salt and pepper into the ingredients that are already in the bowl. Set the bowl aside.
Cut up the apples. Add them to the bowl along with the crushed walnuts and raisins.
Place the dish in the refrigerator to chill until you are ready to serve it.
You Might Also Like