Since "pesto recipe" is currently one of the top recipe searches, I want to share this easy recipe for pasta with pesto. My former food writer, Serena Norr, who specializes in healthy recipes created it for me. Enjoy!
Recipe for Pasta With Pesto
Homemade Pesto
Yield: 6 – 8 servings
Ingredients
6 cloves of garlic, peeled and finely chopped
Bunch (about 8-10 leaves) of fresh basil
½ cup pine nuts
1/2 cup extra virgin olive oil
3/4 cup Parmesan cheese
¼ teaspoon sea salt
¼ teaspoon pepper

Directions
Mince the garlic and finely cut up the basil. Add them to a bowl along with the pine nuts, olive oil, Parmesan cheese, salt and pepper.
Place all of the ingredients into a blender or food processor and pulse until smooth.
 Tip: Add more olive oil if the mixture is too thick or difficult to blend.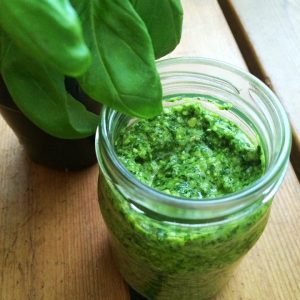 Pasta
Ingredients
Pinch of sea salt
2 cloves of garlic
1 head of kale, stems and leaves coarsely chopped
2 heirloom tomatoes, chopped
Package of whole-wheat pasta (about 4-6 cups of pasta)– or a pasta of your choice

Cooking Directions
Add water and a pinch of salt to a pot and let boil.
Mince the garlic and set aside.
Remove the stems and leaves from the kale and finely chop
Chop the tomatoes and set aside with the kale and garlic.
Add the pasta to the water and let cook for 20 minutes.
Turn off flame and add the pesto, kale, tomatoes and garlic.
 Tip: This pasta can be served hot or cold.
You Might Also Like
{Pasta image courtesy of Serena Norr; pesto image courtesy of Ekologiskt_Skafferi }