For Day 23 of the"A Dessert a Day 'Til Christmas 2021″ series, I'm resharing a strawberry tiramisu recipe from Italy. Since tiramisu is one of the most famous Italian desserts, I was happy when Tuscan Women Cook initially shared the recipe.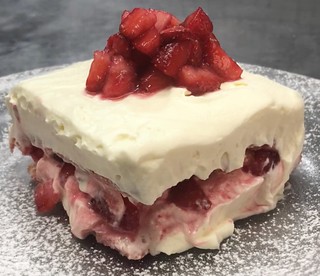 I love Italian food so I'm excited to share this tiramisu with strawberries recipe from Tuscan Women Cook with you. Since the only coffee that I really enjoy is a caramel frappuccino, I appreciate that this recipe does not include coffee in it. 
Tuscan Women Cook, an Italian culinary vacation experience, is owned and hosted by Coleen Kirnan and Rhonda Vilardo. Since we can't travel to Italy right now, I hope that this summer dessert recipe brings a little bit of Italy to you and your family. Enjoy!
Tiramisu Recipe From Italy
Strawberry Tiramisu
Serves: 8

Ingredients:

For the cream:
500g mascarpone cheese, room temperature
500ml heavy cream 
5 egg yolks 
3/4 cups granulated sugar 
For the strawberries: 
2 1/2 cups of strawberries, chopped
1/3 cup Alchermes liqueur,* Fragfoli wild strawberry liqueur or Chambord
1 tablespoon sugar 
2-3 tablespoons rum 
1 cup orange juice 
-1 box dry ladyfingers (Pavesini brand preferred**)
Directions:

1. Put the strawberries, Alchermes liquor, sugar, rum, and orange juice in a bowl. Set aside.
2. With a hand mixer or a KitchenAid standing mixer, beat the egg yolks, sugar, mascarpone, and heavy cream on medium speed for 5-10 minutes, until creamy. 
3. In a small bowl, strain the strawberries and keep the juice in a separate bowl. Dip the ladyfingers in the juice (a quick dip, you don't want them to be soggy), and arrange cookies on the bottom of a baking dish. 
4. Cover with half the cream mixture, then cover with the chopped strawberries, repeat cookies for another layer, and cover with the remaining cream mixture. 
5. Decorate it on top with strawberries just before serving and dust with powdered sugar. Chill for 2-3 hours before serving. It can stay chilled for up to 2 days.
Recipe Notes
* Alchermes is a scarlet-colored Italian liqueur made by infusing neutral spirits with sugar, cinnamon, cloves, nutmeg, and vanilla, and other herbs, and Kermes, a small parasitic insect.
** Pavesini ladyfingers may be difficult to find in stores. However, they are readily available online. Other brands may be substituted.
Recipe and photo reprinted with permission of www.TuscanWomenCook.com.
If you found this recipe helpful, please share it. Thanks!
You Might Also Like
{This post has been updated and republished. This recipe was originally posted on July 10, 2020.}