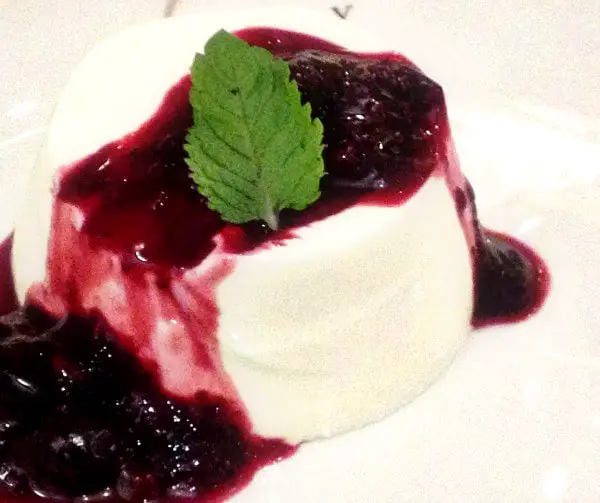 A while ago, Sean and I attended a meal with Lidia Bastianich. The meal ended with panna cotta, a classic Italian dessert and I'm so happy that she shared her Italian panna cotta recipe with me.

Both Sean and I were pleased with this parting dish. The thing that I liked the most about the kid-friendly meals and recipes that Lidia made was that she made it very clear what parts of the recipes kids could do. Being a mom (and grandmother) herself, it was obvious that Lidia remembered that we moms need all of the help that we can get when we are cooking with our kids.
Italian Panna Cotta Recipe With Berries
Lidia Bastianich's Panna Cotta with Berries Recipe
Yield: 6 Servings

Ingredients:
1 1/2 cups heavy cream
1 1/2 cups whole milk, divided
1 1/2 cups sugar, divided
1 vanilla bean, split lengthwise
1 orange, peel removed with a vegetable peeler, juiced
1 tablespoon powdered gelatin
2 cups ripe strawberries, washed and quartered
1 cup blueberries, washed
Few sprigs of mint
Instructions:
Bring the cream, 1 cup milk, 3/4 cup sugar, the vanilla bean, and orange peel to a boil. Remove from the heat and cool to room temperature.
Sprinkle gelatin over remaining 1/2 cup milk and let sit 5 minutes.
Whisk 1/2 cup sugar and gelatin mixture into cream mixture over medium heat. Whisk until gelatin and sugar dissolve and mixture just comes to a simmer. Scrape vanilla bean seeds into the pot, and then strain mixture through a fine sieve into a large spouted measuring cup.
Pour into six (4- or 5-ounce) ramekins. Chill in the refrigerator until set, 6 hours or overnight.
In the meantime, combine strawberries, blueberries, remaining 1/4 cup sugar, and the orange juice in a bowl. Refrigerate to blend flavors, about an hour.
Unmold the panna cotta by passing a paring knife around the inside rim of the mold and transfer all the panna cotta on individual serving plates, upside down. Spoon the marinated berries over the panna cotta. Add sprigs of mint for decoration and serve.
RECIPE NOTE: If the panna cotta does not unmold right away, dip the ramekin in hot water for a few seconds to loosen it and try again. This recipe is adapted from Lidia's Family Kitchen: Nonna's Birthday Surprise by Lidia Bastianich © 2013
Kids Can:
Measure the ingredients
Wash the berries
Mix the strawberries, blueberries, sugar, and orange juice in a bowl
 Unmold the panna cotta
 Spoon the marinated berries over the panna cotta
Decorate with the sprigs of mint
Although there are a lot of steps, this really is a simple dish to make. If you found this recipe helpful, please share it. In addition, consider signing up for my weekly email newsletter so that you don't miss future updates. Thanks!
You Might Also Like: