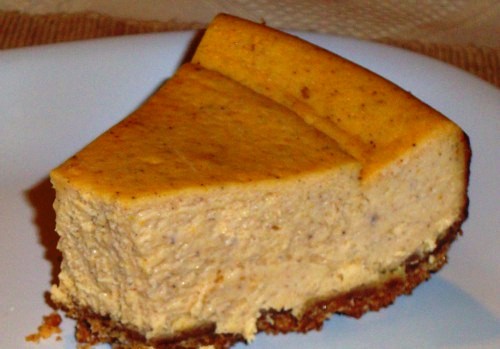 I love sweet potatoes. I can eat them (mashed, roasted, fried, etc.) year round. This time, I'm using them in a cheesecake recipe.  It is not your typical cheesecake.  Here,  I have roasted the sweet potatoes first, because  I think that it brings out a stronger flavor of the potato.  (If you are pressed for time, you can certainly boil the sweet potatoes until they are tender since that takes less time.)
When I first made this sweet potato cheesecake, I wasn't sure that it would be well received by both kids and adults.  Trust me, even kids will like this. In fact, I know a 7-year-old little girl who is still waiting on her sweet potato cheesecake order…
Sweet Potato Cheesecake Recipe
Sweet Potato Cheesecake
Yield: 8 servings
Ingredients
2 lb sweet potatoes
1 1/4 cups graham cracker crumbs
2 – 3 tbsps sugar (for crust)
1/4 cup (1/2 a stick) unsalted butter, melted
3 – 8 oz packages of cream cheese, softened
2/3 cup sugar (for filling)
1/3 cup sour cream
1 tsp cinnamon
1/4 tsp all spice
1/4 cup heavy cream
3 large eggs
1/2 tsp vanilla
Instructions
Preheat oven to 350 degrees. Place the sweet potatoes in a baking dish and pierce each one a few times with a knife. Bake them for approximately one hour until a knife easily goes through the center.
After allowing the potatoes to cool, peel them. Then, puree them in a large bowl using a blender or food processor until the potatoes are smooth. (You can also use a potato masher, but you may still have a few lumps. If you choose this option, you can strain the mashed/pureed potatoes through a sieve to get rid of the lumps.)
In a separate bowl, mix together graham cracker crumbs, the 2 – 3 tablespoons of sugar and the 1/4 cup of melted butter. Press the mixture into the bottom of a 9-inch springform pan. Bake the crust for 10 minutes. Remove the crust from the oven in order to cool it.
In a separate large bowl, place the cream cheese, 2/3 cup of sugar, and sour cream. Use a mixer to beat the combination until it is smooth. Add 1 1/2 cups of potato puree (from Step 2), cinnamon, allspice, and 1/4 cup of heavy cream to the bowl and mix everything together. Add the eggs to the rest of the ingredients one at a time, blending well after each addition. Add the vanilla to the ingredients and mix everything together. Pour the filling into the graham cracker crust.
Bake the cheesecake at 350 degrees for one hour. (The center will wiggle slightly.) Remove the cheesecake from the oven and run a sharp knife around the edge of the cheesecake. Let it cool at room temperature for one hour. Remove the sides of the pan and then refrigerate the cheesecake for 6 hours or overnight.