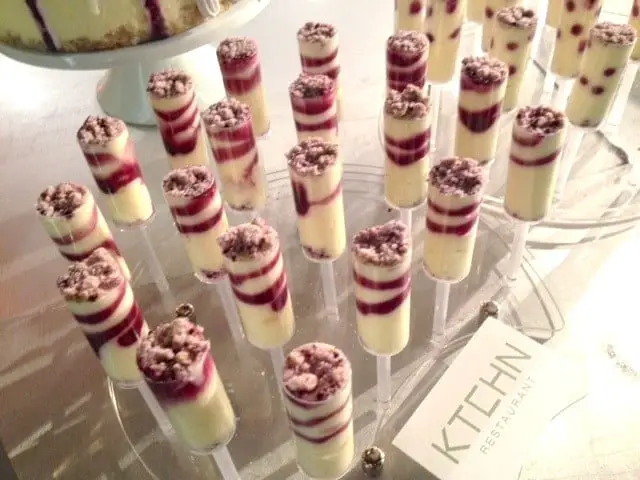 National Cheesecake Day is today (July 30th). To celebrate KTCHN Restaurant¹s Executive Chef Dale Schnell is sharing a push-up pop cheesecake to help you celebrate this delicious day!
KTCHN is also adding a light and creamy blueberry cheesecake to their menu, which makes it the perfect destination to celebrate if you're not in the baking mood.
BLUEBERRY CHEESECAKE POPS

Ingredients:

Cheesecake Mousse

• 6oz. Cream Cheese
• 1/2 Vanilla Bean (scraped)(can substitute 1/8 tsp. of extract)
• 1 Egg Yolk
• 2 oz. Sugar
• 2 ea. Gelatin
• 3oz. Heavy Cream
Directions:
1. First, paddle the cream cheese and vanilla with a kitchen mixer until well combined.
2. Next, quickly whisk together egg yolk and sugar,
3. Then, slowly/ carefully cook it over a double boiler until it thickens slightly like an Anglaise.
4. Empty contents into kitchen mixer with whisk attachment and add the bloomed gelatin.
5. Now, add the cream cheese mixture, and then the cream.
6. Pour into desired molds/ cups/ push POPs and refrigerate until the mixture sets.
Recipe Notes:
-You can swirl some blueberry compote that has been cooked with sugar, corn syrup or agave nectar into the cheesecake before dispensing.

Image and recipe courtesy of:
KTCHN Restaurant
508 West 42nd Street
New York, NY 10036
(212) 868-2999