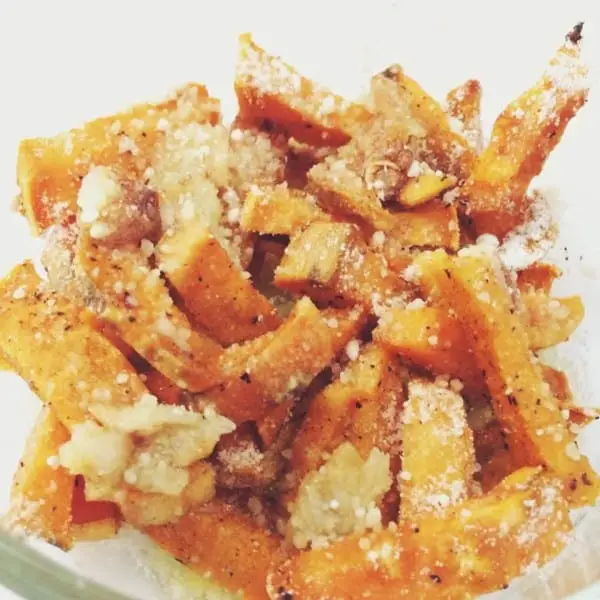 I have been enjoying garlic infused olive oil on fries while eating out lately – once at Bowlmor Chelsea Piers and most recently at Streetbird. After eating the YING & YANG FRIES (sweet potato and garlic fries w/ Parmesan) at Streetbird, I decided to make a homemade version of the dish. Since I already have a great "go-to" baked sweet potato fries recipe, I just needed to add the garlic olive oil and Parmesan.
Garlic Infused Olive Oil
Fortunately garlic infused olive oil is super easy to make. I found two recipes that I liked – one from Ina Garten and one from Martha Stewart. I merged them and adapted the final recipe to my family's tastes (we REALLY like garlic). The flavor was a hit…
Garlic Infused Olive Oil
Ingredients
5 garlic cloves, peeled
1/3 cup extra-virgin olive oil
Instructions
Bring the garlic and oil to a boil in a small saucepan. Turn the heat down to low and cook for an additional 5 minutes. (The garlic will be browned.) Turn off the heat and set the saucepan aside with the garlic and oil in it.
After approximately five minutes, remove the garlic cloves from the oil and slice them. Place the sliced garlic in a bowl and pour the oil from the saucepan over them.
Baked Garlic Parmesan Sweet Potato Fries Recipe
Once you make my Simple Oven-Baked Sweet Potato Fries, simply toss them in the garlic infused olive oil and sprinkle them with Parmesan cheese. (As I mentioned, we REALLY like garlic, so I added some of the actual garlic in addition to the infused oil.) Enjoy!