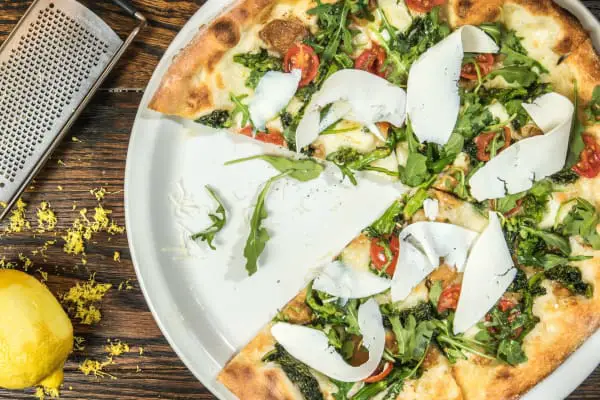 New York City is one of greatest cities in the world. Since I love food, I especially appreciate all of the amazing places to eat here and that there are award-winning restaurants sprinkled throughout the five boroughs. This city is even known for a "style" of pizza (New York-style). Did you know that 150 pizzas are eaten in NYC every minute? That is what I learned when I partnered up with Netflights.com to promote their What Happens in a New York Minute piece. After asking my Facebook friends to share their favorite pizza in NYC, I also realized that I have several new pizza spots to visit!
One thing that I love about New Yorkers is that we are an opinionated bunch. When it comes to pizza, most of us have strong thoughts about the best spots. I was able to compile over 50 responses in a brief period of time. Below is the breakdown of top New York City pizza places (according to a sampling of my Facebook friends)….
The Top 3 New York City Pizza Places
#1. Grimaldi's: The Zagat guide isn't the only one to give them the "best pizza in New York" label. Their coal brick-oven pizzas are legendary for a reason. Grimaldi's received almost twice as many more votes from my friends than the #2 spot.
Comments
I literally can't even put it into words.
It was the best pizza I've ever had in my life.
I think the one in Brooklyn is better than the one in the city but both are so yummy. Fresh, light, crispy crust but cheesy goodness. Not too salty. Mmmm.
Best pizza anywhere hands down.
Love the fresh mozzarella!
#2. Lombardi's: America's first pizzeria (founded in 1905) took the second spot on the list. Located in Little Italy, the landmark restaurant definitely has its loyal fans.
Comments
It's the original.
Love.
Great.
Lombardi's. It's the very first pizza restaurant in America and still have the same recipe. So worth the money!!!!
Best pizza in New York City.
#3. Patsy's Pizzeria: The pizza dynasty (4 generations of pizza makers) continues to come to mind when New Yorkers think of traditional New York style thin crust pizza. I have actually eaten at one of their locations before and agree that it is a top place to enjoy an old-fashioned pizza pie.
I love (74th Street/The Upper West Side) Patsy's.
*Patsy's Pizzeria (118th and First Avenue in East Harlem) is like old little Italy with their brick oven pizza. 
Can't forget Patsy's.
*Note that the original Harlem location (http://www.thepatsyspizza.com/) is not a part of the larger chain of Patsy's restaurants. Both have their fans.
New York City Pizza Places (#4 – #8)
These five picks all received multiple votes.
#4. Carmine's Italian Restaurant
#5. Custom Fuel Pizza: "You can custom make your pizza. You can choose your dough from whole grain, wheat or just regular. It's a rectangular, thin crispy pizza big enough for sharing or eating all of it on your own. You can also add any toppings you want…all for the same price." "It was actually quite good. I enjoyed it."

#6. Di Fara Pizza: "I grew up there (in the neighborhood) before the pizza was $5 a slice. But no one makes pizza like them – terrific. I love it but truly – it was $0.25 a slice when I was a kid and he was younger too! I spent $0.50 on 2 slices for lunch in elementary school." "Friends suggested to me that Di Fara didn't live up to the hype but I thought it did."
#7. L&B Spumoni: "Their square pie is unlike anything I have ever tasted. The sauce is on top and there's an ongoing debate as to whether there's any cheese under the sauce (we think not) – it's perfection! We get trays of it to bring home as it's even better the second day (if it lasts that long!) – www.Partybluprintsblog.com" "I think it's the best in all of New York."
#8. Sam's Famous Pizza: "Pizza shop on 116th & Lexington Avenue." "It reminds me of carefree childhood days."
New York City Pizza Places (#9)
These pizza spots each received a single vote, so I'm grouping them all together as #9. (I still want to visit a few of them!) 
#9. Etcetera
-Brunnetti Pizza (Manhattan)
-Calabria (Brooklyn – Crown Heights) "Exotic flavor combos and you pay by the weight of the slice. Cool atmosphere."
-Caterina Pizza (Brooklyn – Cypress Hills) "It's had the same owner for over 30 years. He's one of those old school Italian guys who believes in quality. I think he's a big reason that the pizza taste so good. I love the sauce and cheese. Shout out to the owner Mr. Vito. You rock."
-Cotte Bene (Brooklyn)
-Dreamers (Manhattan, on 102 & Third Avenue) "My new favorite. Thin slice, crunchy, and excellent cheese to sauce ratio"
-Enoteca on Court (Brooklyn) "Thin crust pizza baked in a wood burning oven. It's on the tour circuit for tourists…"
-Gloria Pizza (Queens – Forest Hills) "It's whole wheat crust so I get all the yum of the pizza without the high sugar and salt and fat content."
-Gotham Pizza (Manhattan – Upper East Side) "Best neighborhood slice. The crust is on the thinner side (not too doughy), and always perfectly crisp (never soggy) and they leave an extra dusting of cornmeal on the bottom so it has a unique taste and texture."
-Gruppo Thin Crust Pizza (Manhattan) "You can't beat it."
-Joe's in the Village (Manhattan)
-John's Pizzeria (Manhattan – Times Square)
-Koronet (Manhattan – Upper Upper West Side)
-Louie & Ernie's (Bronx)
-New Park Pizza (Queens – Howard Beach) "New Park Pizza !!! Brick oven pizza in Howard Beach." (It turns out that my friend isn't the only fan. Many people rave about this spot online.
-Numero 28 (Manhattan – The Village)
-Sal (Manhattan – Upper West Side)
-Salvos Pizzeria (Manhattan) "On York and 77th on the Upper East Side. Great Marinara slice and more."
-Smiling Pizzeria (Brooklyn) "On 7th Ave and 9th Street in Park Slope, Brooklyn. Best spinach, best broccoli and best salad pizza!"
-Totonno's (Brooklyn) "The Lombardi family (of #2 Lombardi's) and Totonno family used to be partners. Both are equally good."
-Yankee's Pizza (Bronx)
Whew! That's a lot of pizza. I think that practically anyone should be able to find a great slice from at least one of these pizza places. Definitely let me know if I missed your favorite place to eat pizza in NYC.
P.S. If you're a numbers fan (like me), you can learn more about what happens every minute in our great city at What Happens in a New York Minute. For example, did you know that over 1,000 hot dogs are eaten every minute in NYC? They are!
{Post image: Credit: Unsplash/Brenan Greene Photography}