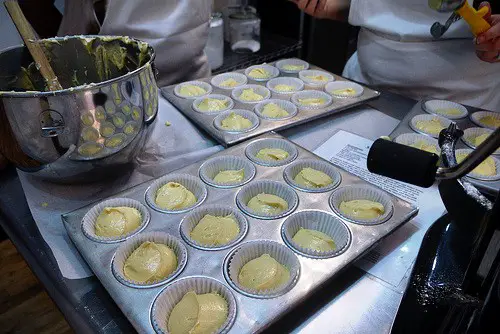 At the Butter Lane Cupcake Class that I participated in last week, I was placed with the group who prepared vanilla cupcakes. The thing that I appreciated the most about our teacher Joe was that he started out by saying that cake is one of the easiest things to make – approximately 80% of cake recipes start out the same. I can "do" easy :-)!
I am simply going to go through the Vanilla Cupcakes recipe and share some tips that I picked up from Joe regarding how to make vanilla cupcakes from scratch.
VANILLA CUPCAKES
Yields 36 cupcakes (or a three-layer cake)
Ingredients: 
½ lb Butter
2 ½ Cups granulated sugar
5 Eggs
Splash of vanilla extract
12 oz of sour cream
1 Tbs baking powder
1 Pinch of salt
3 Cups of cake flour
Directions:
1. Combine butter and sugar in mixing bowl. Mix until sugar and butter forms a cream.
*We used a KitchenAid stand mixer during the class. Joe said that the settings are pretty consistent on most mixers thought. We started off on setting "2" and then turned it up to "4".
*It is important to thoroughly scrape the sides and bottoms of the mixing bowl with a spatula add the end of each step.
2. Crack eggs into a separate bowl, add a splash of vanilla extract to the eggs, and then add the eggs to the mixing bowl. Mix on medium speed until mixture becomes light and fluffy.
*Some students wanted to know what the measurement equivalent of a "splash" was. Even though Joe insisted that we should not measure it because there was no right or wrong, he finally relented and said that a splash is approximately a tablespoon.
*Add the eggs one at a time with the mixer on setting "2". Pause 15 seconds between adding each new egg. After all of the eggs have been added, quickly stir off the sides of the bowl. Increase the speed to "4" and mix for 30 more seconds before scraping the sides and bottom of the mixing bowl.
3. Combine baking powder and salt with flour. Add half of the flour mixture, followed by sour cream, and then add the rest of the flour mixture. Mix until combined, but be careful not to over-mix.
*You want to be careful not to over-mix so that the batter doesn't turn into dough. To prevent that, don't turn the mixer setting past "stir" when using a hand mixer. Also, don't take more than 2 minutes – 1 ½ minutes is usually fine – to complete this entire portion of the recipe. (In order to help with timeliness, pre-measure your ingredients.)
*Be sure to scrape the sides and bottom of the mixing bowl once everything is combined. Then blend everything for 10 more seconds.
4. Scoop cupcakes and bake for 23 minutes at 300 degrees.
*We used muffin tins with cupcake liners.
*Use a medium scoop (which is equal to 50 mm/3-tablespoons). We used a Vollrath one during the class.
*The trick to scooping is to keep the bottom of the scoop constantly facing up.
*Fold the batter after scooping every 5 to 6 cupcakes. ("Folding" the batter is easy to do, but hard to explain. You basically fold the batter into itself. I know – I'm explaining a phrase by using the word! If you're still not clear, you can find a better explanation over at cooking.stackexchange.com.)
*The baking instructions are for a convection oven. If you don't have a convection oven, "buy one" according to Joe. As an alternative, cook the cupcakes in a conventional oven for 30 minutes at 300 degrees.
That's it. It was pretty easy. On a related note, if you plan on baking cupcakes a lot in the future, you might want to invest in Vollrath scoops
and a KitchenAid stand mixer
. The mixer is now on my "wish list"!