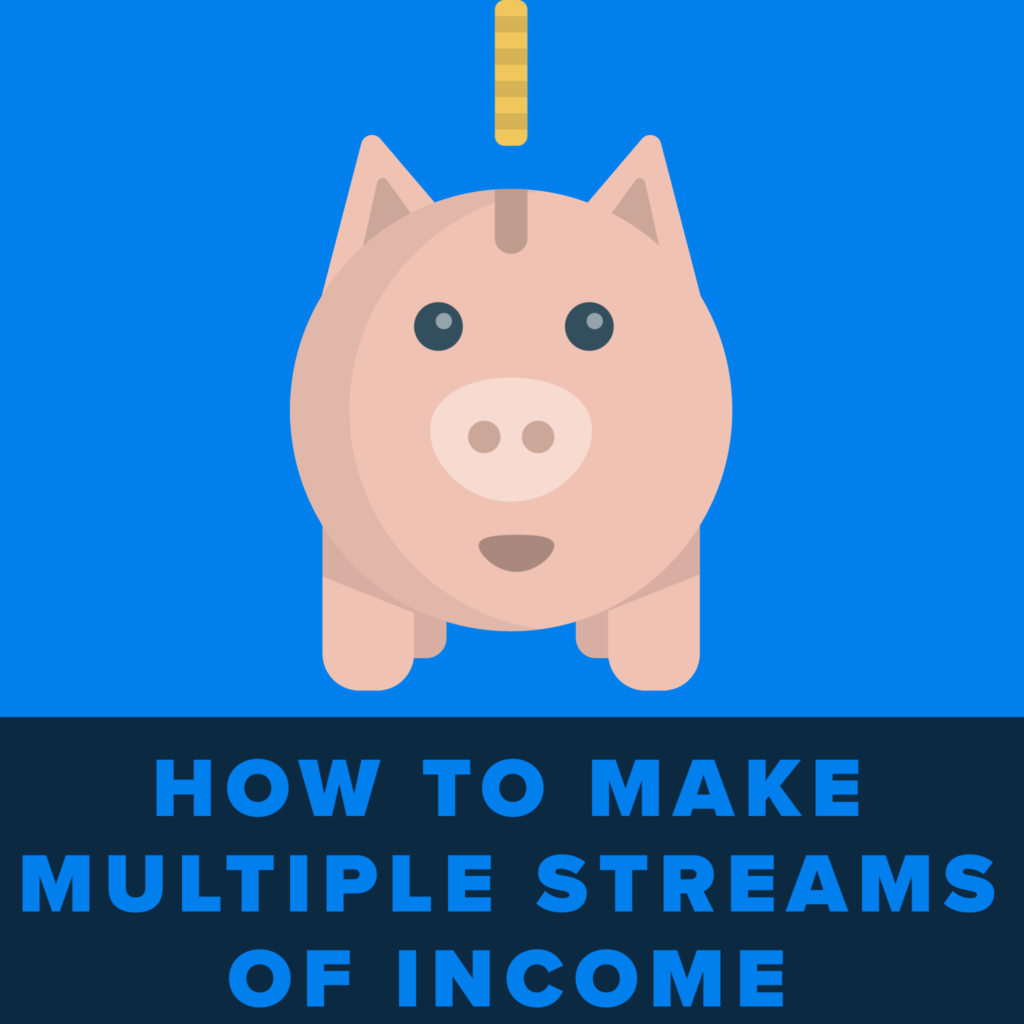 In last week's budgeting post, I shared that I prefer to increase my income rather than cut my expenses in order to balance our household budget. Today, I want to share some ideas for multiple streams of income. Eight of these picks have allowed me to remain a home-based mom for 17+ years. I hope that they help you to meet your financial goals also.
Ideas for Multiple Streams of Income
I am not sharing these ideas in the order that I have done them. Instead, I am sharing them in the order of how quickly I was paid for the work. (I know that many moms need to earn money as quickly as possible.)
1. Get a (work from home) job.
There is absolutely nothing wrong with working for someone else – part or full-time. For two years, I worked as a camp administrator. I worked from home except for the 2 weeks of camp.

I actually enjoy the stability of a paycheck. If the right (results-only work environment) opportunity came along, I might just take it. Many companies are now seeing the value of remote workers so this is a great time to see what is available. FlexJobs and The Mom Project are two companies that I recommend. (I found the pay rates at Hire My Mom to be pretty low but a lot of moms like that site too.)
2. Sell a service.
This is a really easy way to earn income. Think about the following to come up with a potential service business:
What can I do well?
What do I enjoy doing?
What will others pay me to do?
What aligns with my values/life purposes?
The thing(s) that check all (or most) of the boxes are great service businesses to consider. If you're not clear, ask your loved ones. They probably have plenty of ideas that you can filter through the four questions.

For instance, my oldest son thinks that he is my work guide. Earlier this year, he said, "You should have others pay you for the things that you do for us for free. You're really good at cooking and cleaning…and you're kind." In addition, he let me know that he had some hair clients lined up for me (since I have been cutting and twisting his hair during the pandemic).

None of his ideas are great options for me. I only cook for loved ones. I don't even like deep cleaning. I'm glad that he thinks that I'm kind but I don't know if I can/want to "sell" that. Lastly, I have no desire to do anyone else's hair. To his credit, they are options. 😊

I did build blogs and websites for several years as a service business. I earned up to $6,500+ for a business website. I still do blogs or websites on occasions for special people. I don't do them often because I don't especially enjoy developing websites anymore.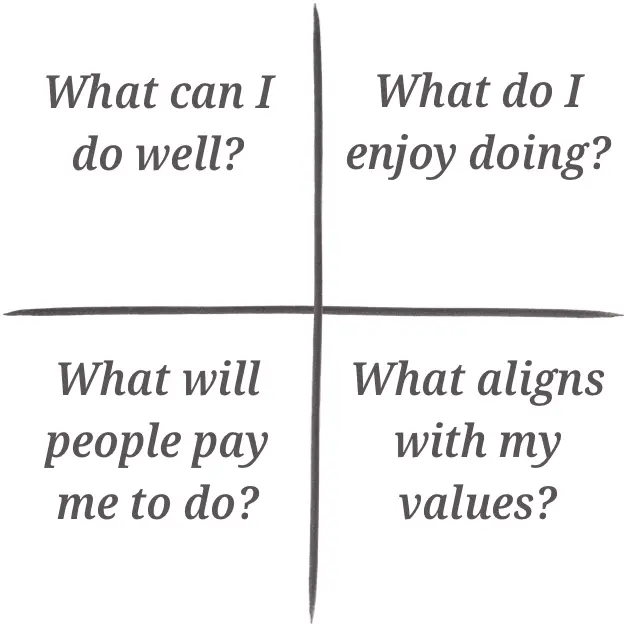 3. Sell a digital product.
If you have specialized information on a topic, this is a great option. You create something online once and then sell it repeatedly. You don't even necessarily need your own website. Ebooks, printables, audio and visual online products are some of the digital ideas for multiple streams of income.

Amazon's KDP program sends me royalties from my soul food eBook every month. If you don't want to use Amazon for your eBooks, Designrr is a $27 eBook creator that I find easy to use. Then, you can sell your digital products through ConvertKit (an email marketing company that lets you create, manage, and sell digital products online). I need to write more ebooks.
4. Sell a physical product.
There are so many different types of products that you can sell online. I'm a fan of print-on-demand product royalties since I don't want to deal with customer service, mailing products and the like. I just make the design and promote it. My printing partners do the rest.

I started Our Family Tees as a family project to teach entrepreneurship to my sons. The rest of the family basically bailed on me once they realized that their best ideas usually infringed on someone else's trademark. 🤣

I'm glad that I stuck with it because you never know when a design will be a hit. When one of my tees (that took less than 15 minutes to design) sold over $10,000 in one month, I was hooked. It's not my "main thing" but it's like the New York Lotto…you never know! I also like the anonymity of POD. You won't know which designs I have on Amazon…unless I promote them.
I use Merch by Amazon (which is by invitation) the most but I have started to use TeePublic (which isn't exclusive) since they have a wider variety of products.
It helps if you are artistic or a great designer but you don't have to be. (I'm not. Most of my bestsellers are minimalist, text designs.) I am considering selling on Etsy and/or my own Shopify store in the future if I want to build an apparel brand but I think that POD is a great place to start.

5. Start a blog (or another content channel).
This blog started my work from home mom adventure. (I was a finance and research person pre-mom life.) It has been such a blessing. Blogging is different today. There is a lot more competition and expectations than "back in the day". As such, it can take a bit longer to monetize.

If you have a unique angle though, you could earn more quickly. Better yet, think about how you will monetize your blog before you start. Display ads, affiliate commissions, sponsored content, selling your own products and brand ambassadorships are some of the ways that I have monetized this blog over the years.

If you want to start a blog, I suggest learning from an expert from the start. I have been going through various pieces of training lately and I need to go back and redo the SEO and images for a couple of thousand posts(?!) The course that impressed me the most is Profitable Audience. (I don't have any type of relationship with them.)

If you prefer speaking, consider a podcast. If you prefer video, consider a YouTube channel. There are alternatives if you don't like to write.
6. Sell an online course.
You can take your specialized knowledge and conduct a class or course over the Internet. Workshops and masterclasses are other options. The courses can be self-paced and pre-recorded or you can do live sessions.

I think that (in general) courses take a bit longer to monetize because you have to build up trust. Since courses are normally priced a bit higher than basic digital products, I think that the information should be really valuable.

I have created an online course (How to Create a Service-Based Business Website) before. I monetized it through affiliate commissions rather than charging outright.
7. Coach or consult.
If you have extensive experience in an area, consider training or advising others. There are all types of coaches including spiritual, parenting and business ones. You can do 1:1 or group coaching.

I do a lot of spiritual coaching in my personal life so I limit the amount that I do for work. I have enjoyed consulting companies on various topics over the years though.
8. Invest.
This is another one of the longer-term ideas for multiple streams of income. My sons begged me to let them invest in cryptocurrency so I used the Robinhood app to do so. (They're not too happy with DOGE at the moment.)

I prefer stocks. If you are a beginner who is not ready to use a financial advisor, I suggest using Acorns. It's an app that allows you to invest your spare change automatically. Those small amounts add up over time.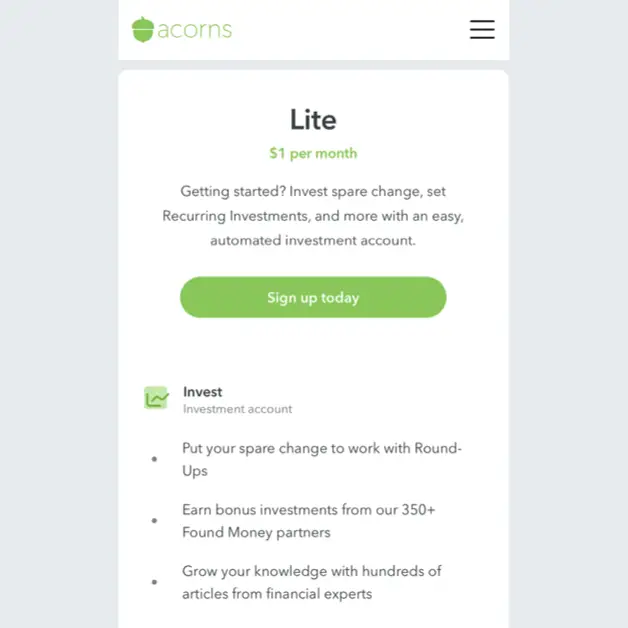 More Ideas for Multiple Streams of Income
Ideas for multiple streams of income are only limited by creativity. Just think about all of the things that you pay for. People will pay you for something. Network marketing, speaking and event planning are a few other streams that I have earned money from doing. (During these pandemic times, you can do these things virtually.)
Paid newsletters, membership sites, retreats, V.I.P. days, real estate investing, becoming a virtual assistant and running in-home daycares are some other options that I wanted to share. (I haven't personally done these ones but I know people who have.)
If you found these ideas for multiple streams of income to be helpful, please share this post. In addition, consider signing up for my weekly email newsletter so that you don't miss future updates. Thanks!
Recommended Resources