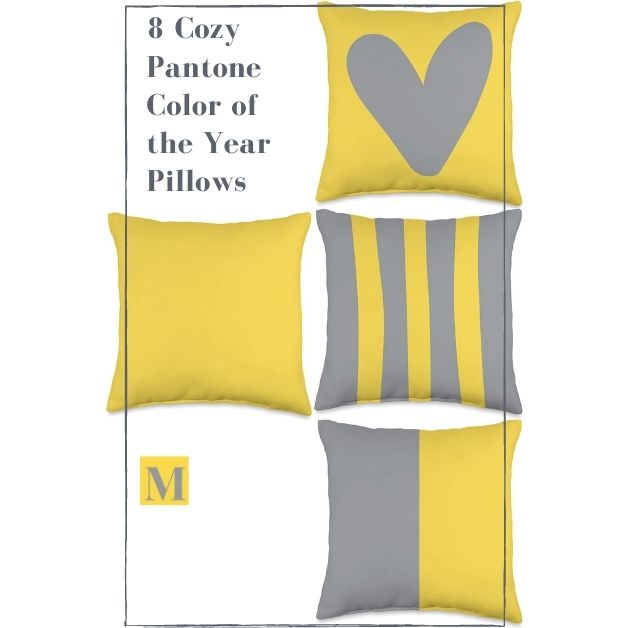 As many of my regular readers know, I love Pantone's Colors of the Year 2021. Not only did I redesign my site in the Illuminati Yellow and Ultimate Gray colors, I also added the colors to my home. When I couldn't find throw pillows that I loved, I created a set of indoor spring throw pillows 2021.
I bought a couple of yellow throw pillows for my navy couch. I'm happy to report that the decorative pillows are cozy and comfortable. If you are looking for trendy throw pillow ideas for your couch, consider these color of the year options.
Indoor Spring Throw Pillows 2021
Whimsical Heart Throw Pillows
Color Block Throw Pillows
Minimalist Stripes Throw Pillows
Colors 0f the Year 2021 Throw Pillows
I hope that you love these colorful living room Spring throw pillows 2021 as much as I do. I think that these decorative pillows would go well with several different living room color schemes. Since my living room is primarily shades of blue with a navy couch, I bought the yellow pillows.
These color throw pillows would go well with a variey of color schemes though. I especially think that they would be great throw pillows for a light or dak grey couch. The only limit is your creativity!
FYI: All of the 16×16 pillows are $19.99. As an alternative, you can get the designs on 18×18 pillows for $21.99. (You can just click on any pillow image to buy it.)
If you enjoyed this post, please share it. In addition, consider signing up for my weekly email newsletter so that you don't miss future updates. Thanks!
You Might Also Like