Congrats to the winner Alisa

I can hardly believe that August is coming to an end. The boys will be back in school this time next month (?!) Over the summer, the boys (especially Michael!) have thoroughly enjoyed being a part of the Percy Pack. As part of the Pack, I'm sharing highlights that Rick Riordan fans might enjoy and sharing some fun giveaways for Mom in the City readers – including this month's giveaway, a copy of the newly released Percy Jackson's Greek Heroes
plus a "Percy Pack" limited edition backpack.
August Highlights
August 18th was Percy's "birthday" and the in-store release of Percy Jackson's Greek Heroes
. My kids enjoyed the celebratory gift packet that they received for being part of the Percy Pack. I admit that I ate half of their macarons. (Where has Dana's Bakery been all of my life?!) I also MAY have taken their mug as my new morning tea mug. Oh, well…I'm doing most of the work anyway. 🙂
If you are a Percy Jackson fan, definitely order Percy Jackson's
Percy Jackson's Greek Heroes
. It's currently available online and in-stores. These books give their readers a greater grasp of Greek mythology than multiple college courses. (Cough…Columbia!) I'm a big fan of making learning fun for kids and readers walk away from this book knowing more about Medusa, Pegasus, Perseus and other Greek heroes than most. I also like that there is a free downloadable activity kit for
Percy Jackson's Greek Heroes
that is available on
ReadRiordan.com
. It includes event ideas and activities that will reinforce what readers learn from the book. It's also a big book, so it provides an easy way to get my
boys to read
. (Michael is currently on page 296 of 383. He would probably be finished by now if I didn't consistently force him to stop reading because of his bedtime!)
Giveaway
Fortunately, we are not the only ones who get a gift for Percy's birthday! One lucky MitC reader will receive a copy of Percy Jackson's Greek Heroes
plus a "Percy Pack" limited edition backpack.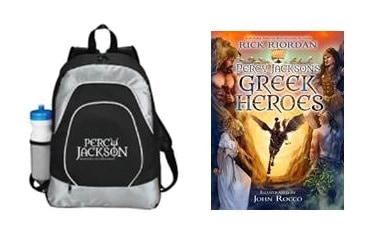 (Sean liked the Percy Pack backpack so much that he chose not to get an additional back to school backpack. He is very "particular" so that speaks for the quality of the backpack!)
To enter to win, simply let me know your (or your child's) favorite Greek hero in the "Comments" section below or by sending an email with "Greek Heroes" in the Subject line to [email protected]. A winner will be chosen on September 11th at noon.
Disclosure: We are receiving books, merchandise and prizing from Disney-Hyperion for being a part of the Percy Pack. As always, all opinions are our own.