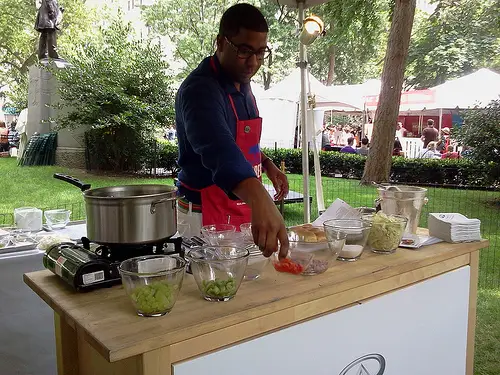 While I was at the Big Apple Barbecue Block Party this past weekend, I went to see Southern Living Test Kitchen Chef Norman King demo one of his favorite kid-friendly summer recipes. My kids tasted samples of his Smoked Chicken Sliders and they both enjoyed them. (That is no small feat since the chicken was covered with chow chow, a medley of vegetables.)
Mr. King shared that sliders make the perfect summer meals for kids because they are really easy to make and perfectly sized for little hands. To make the smoked chicken sliders, you just place the chow chow and shredded smoked chicken on slider buns and enjoy. I have included both recipes below. (If you don't have access to a smoker, don't worry about it. The chicken recipe works really well in apartment ovens too.)
Smoked Chicken
(Recipe courtesy of Southern Living Test Kitchen Chef Norman King's demo at 2012 Big Apple Barbecue)
Ingredients:

-Paul's Chicken Rub
(Rub ingredients courtesy of Southern Living July 2005, used with permission)
1 cup Greek seasoning
1/4 cup garlic powder
1/4 cup paprika
3 tablespoons dried oregano
-1 (5 to 5 ½-pound) whole chicken

Directions:

Combine all of the ingredients that are included in the dry rub together. (If there is any left over, store it in an airtight container.)
Heavily season the chicken with the dry rub.
Wrap the chicken in plastic wrap and let it chill in the refrigerator for 6 hours (or overnight).
When you are read to cook the chicken, pull it out of the refrigerator an hour beforehand.
If using a smoker, smoke the chicken for 3 to 4 hours (or use these Southern Living smoked chicken instructions.)
OR
If you live in a city apartment (like me!), place the chicken in a roasting pan and roast at 375 degrees for one hour. It will come out moist, juicy and flavorful.
*Cooking Tip: If you want more of a smoky flavor, then add smoked paprika to the chicken.

Chowchow

(Recipe courtesy of Southern Living JUNE 2012, used with permission)
Ingredients
3 cups chopped fresh cabbage
3/4 cup chopped onion
3/4 cup chopped green tomatoes
1/2 cup chopped green bell pepper
1/2 cup chopped red bell pepper
1 tablespoon pickling salt
3/4 cup sugar
1/2 cup white vinegar
3/4 teaspoon mustard seeds
1/4 teaspoon celery seeds
1/4 teaspoon ground turmeric
1/2 teaspoon dried crushed red pepper (optional)
1 jalapeño pepper, seeded and finely chopped (optional)
Preparation
Stir together cabbage, onion, green tomatoes, chopped green and red bell peppers, and pickling salt. Cover and chill 2 to 8 hours. Transfer mixture to a Dutch oven. Stir in sugar, vinegar, 1/4 cup water, mustard seeds, celery seeds, turmeric, and, if desired, dried crushed red pepper. Bring to a boil over medium-high heat; reduce heat to medium, and simmer 3 minutes. Cool to room temperature (about 30 minutes). Stir in jalapeño pepper, if desired. Cover and chill 1 to 8 hours before serving.

{These recipes were cross-posted from Foodie City Mom.}
---
If you like this post, please consider…
-Following Mom in the City on Twitter
-Liking Mom in the City on Facebook
-Signing up for Mom in the City's FREE weekly email newsletter