Just in time for Thanksgiving, one lucky Mom in the City member will win an assortment of Libby's Vegetables and a Mayfair & Jackson Covered Casserole Dish with Rack.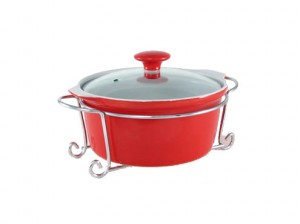 Libby's also has some budget-friendly dishes for the holiday season. I've included a couple of the recipes below and I'll be sharing a few more next Tuesday.
TURKEY PASTA SALAD WITH BASIL DRESSING
Prep time: 10 minutes
Cook time: 8-10 minutes
8 ounces uncooked fusilli or rotini pasta
1 can (15 oz.) Libby's Sweet Peas, drained
1 cup (about 8 oz.) diced cooked turkey
1 small red bell pepper, cored and diced
1/2 cup bottled Italian dressing
1/4 cup chopped basil
1 tablespoon lemon juice
1/2 teaspoon salt
Pinch of red pepper flakes
Cook pasta following package directions; drain and rinse with cold water. In a large bowl, combine pasta with remaining ingredients. Toss gently until well mixed. Serves 4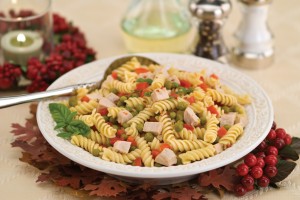 WILD RICE PILAF
Prep time: 10 minutes
Cook time: 35 minutes
2 tablespoons butter
1 cup chopped celery
1 cup chopped onion
2 packages ( 4.3 oz. each) long-grain and wild rice mix
1 can (15 oz.) Libby's Whole Kernel Sweet Corn, drained
1 can (8.5 oz.) Libby's Peas and Carrots, drained
1/2 cup toasted sliced almonds*
In a large saucepan, melt butter over medium heat. Add celery and onion; cook about 5 minutes or until soft. Add rice, seasoning packet and amount of water specified on the box (omit butter). Bring to a boil; reduce heat, cover and simmer about 30 minutes or until liquid is absorbed and rice is tender. Add corn and peas and carrots; stir gently over medium heat until heated through. Transfer to serving bowl; sprinkle with almonds.
Serves 4
* To toast almonds, place on a baking sheet in a 350°F oven about 15 minutes or until golden brown.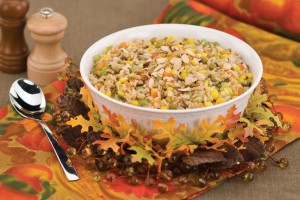 Mom in the City newsletter subscribers can enter to win this prize by leaving their name and their favorite Libby's item in the "Comments" section below or by sending an email to [email protected] with "Libby" in the Subject line by Sunday, November 23rd (just in time for Thanksgiving!).