Valentine's Day is a great time to get creative and crafty with your younger kids! Here are some fun and easy Valentine's Day crafts for kids that they can make at home to express their love: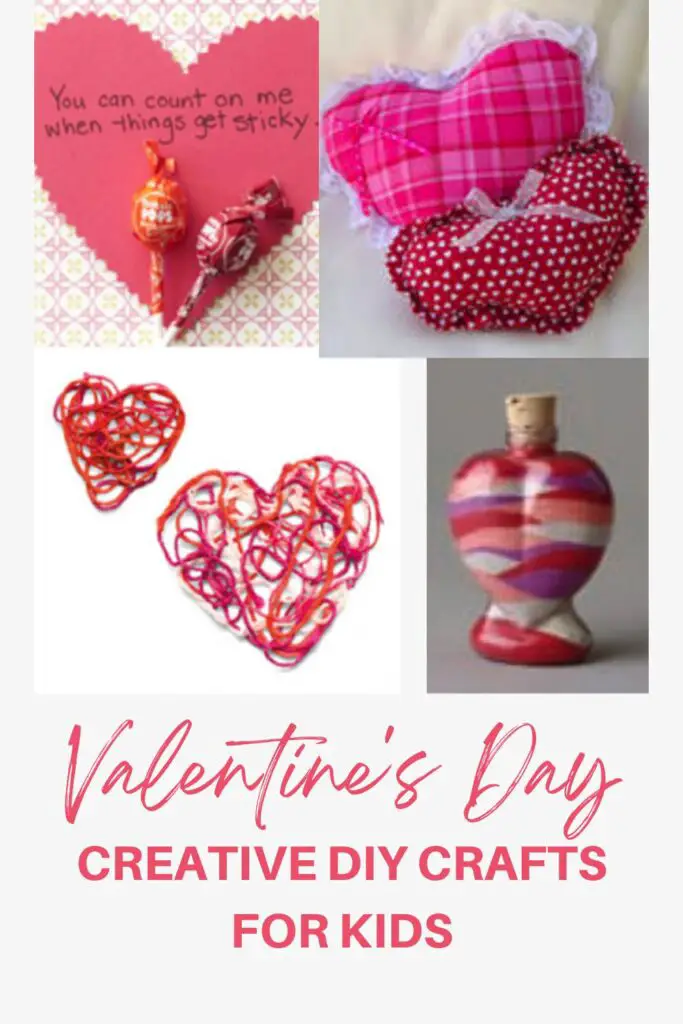 Valentine's Day Crafts for Kids
1. HEART ORNAMENT
You'll go mad for these adorable ornaments! They're fun and simple to make, and they double as inexpensive decorations! All you need is yarn, cornstarch glue, water, a heart-shaped cookie cutter and parchment paper.

-First, make your cornstarch glue by combining cornstarch and water over medium heat until it is thick and translucent.

-Once the glue has cooled enough to touch, cut your yarn into foot long pieces, and place your cookie cutter on your parchment paper.

-Then, push a piece of yarn into the cornstarch glue until it's coated, and remove any excess glue with your fingers.

-Next, lay the yarn inside the cookie cutter.

-Repeat until the cookie cutter is filled with a thin layer of yarn, then press the yarn flat and gently lift the cookie cutter off and allow the yarn to dry.
2. HOMEMADE VALENTINE'S DAY CARDS
All you need to make extra special homemade Valentine's Day cards is some colored paper (in colors like red, white and pink), markers, glue, scissors, and anything you might want to add in (glitter, beads, candy, etc.). Help your kids cut out heart shapes in their paper, and think of fun sayings to write on the cards. Decorate the cards with drawings, or glue on treats like lollipops or Sweethearts. These truly custom Valentines are both fun to make and receive.
3. MACARONI JEWELRY
Making jewelry from macaroni is both fun and easy, especially for Valentine's Day! All you need is some rubbing alcohol, red food dye, dry macaroni, some bowls to mix in, and string.

Once you've mixed the rubbing alcohol and food dye to the perfect shade of Valentine's red (or pink!), drop the macaroni in and let it soak until you like the hue.

Take the macaroni out of the dye, and let it dry, then use yarn or string to make necklaces, bracelets, crowns, and more for the perfect Valentine's Day accessory!
4. HEART-SHAPED PILLOWS
This craft is great for slightly older kids or may take a little more participation from mom or dad. To make cute heart-shaped pillows, you need the fabric of your choice, a needle, thread, cotton batting, and straight pins.

-First, lay your fabric down flat and fold it over twice so that it is doubled up.

-Next, cut out half a heart shape in your folded fabric (when you open it you should have two hearts that are the same size).

-Next, lay your hearts together so that the wrong side of the fabric is facing out, and use your straight pins to secure the two pieces of fabric together.

-Then, stitch around the edges of your hearts until you're about two inches from closing it. Remove all the pins, and turn your fabric inside out so that the right side is visible.

-Next, gently stuff your heart with your cotton batting until it is full, and then stitch the opening closed.
5. MAGIC SAND
Using a glass bottle with a cork or lid and different colored sand is a fun way to create a "magic sand" love spell (and it makes for a great decoration)! All you need to do is layer different colors of sand in a glass container (colors like red, pink and white work best for V-Day). Before putting the cork or lid on the bottle, invite your kids to say a few words about something or someone that they love – then tell them that once the bottle is sealed, it will represent that person or thing, and to take care of the bottle and keep it close.
These are just five of the many simple Valentine's Day crafts for kids that you can make at home. Get creative and have fun!
These crafts are all inspired by the Madly Madagascar video. In it, the Madagascar friends are involved in a Valentine's Day, Alex's favorite holiday, themed adventure. (Thanks to the film company for sharing these crafts with us.)
You Might Also Like
Cute Valentine's Day Nail Polish Design That You Will Love
{Updated. Originally posted on 2/6/2013.}