On a whim, my mom decided that she was going to visit New York with my sister for her 64th birthday. I love my mom and sister so I was excited that they were coming to visit. I only had a few weeks to plan though so I tried to figure out the best place to stay and fun things for them to do.
Overall, when planning a stay for your mom (or anyone else for that matter), it's important to keep in mind what they will enjoy. I like nice hotels, great food, Broadway shows and pampering. However my mom and sister had different wishes. My mom does not enjoy Broadway shows and she prefers playing games at the casino rather than a relaxing spa day. I enjoy "spoiling" my mom so I definitely wanted to make her stay a special one. Since she enjoys casinos so much, I tried to figure out where to take her in the area. Initially, I ruled out Resorts World Casino in Queens because it just didn't seem great enough.  However, there was a special convention in Atlantic City and that the ride to the casinos in Connecticut would take too long for the rest of the things that we needed to do. Since my mom was fine with the Queens casino, it just had to do.
Meanwhile, it was my sister's first visit to NYC since my wedding almost 14 years ago so she wanted to see as much of the city as possible. Unfortunately, her foot is hurt at the moment so she couldn't walk around a lot. That's why she asked to go on a bus tour. With those things in mind, this is what we ended up doing…
Friday evening
After picking my mom and sister up from Penn Station, my mom asked to go to TGI Friday's for dinner. How did we end up going to TGI Friday's in New York City when it's a chain restaurant/they could have had that in Virginia? Obviously, we have differences of opinion regarding eating out. I like to try a variety of foods while my mom likes simple time-tested safe meals. Whatever my mom wants though… 🙂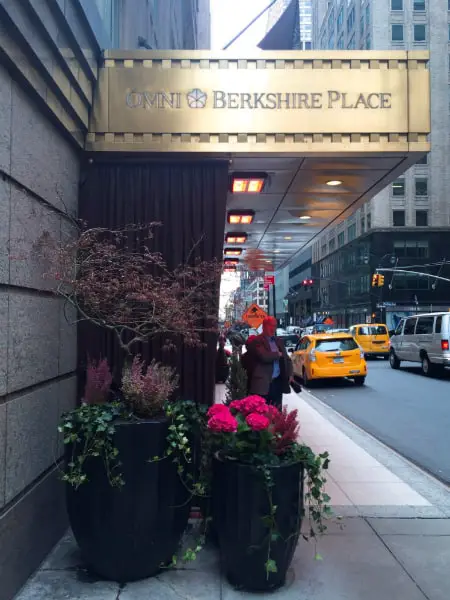 After dinner, we went to the Omni Berkshire Place hotel in Midtown Manhattan. It was such an amazing experience…especially for my mother and sister. While they have stayed at an Omni hotel before, they were especially impressed to be on the 20th floor. (I don't think that the hotels in Virginia even have 20 floors!) I already knew that the Omni Berkshire was a top hotel because my husband Reggie and I had stayed there for an anniversary getaway several years ago, but it was still fun to look at it anew through their eyes.
(A special thanks to my press/media friend "Z" and the managing director of the hotel for making my mom's birthday so special! To our surprise, there was cake, wine and a sweet note waiting for us upon our arrival.)
Saturday
In the morning, my mom and sister went to the hotel restaurant and bought breakfast. (Finally… a real NYC meal.) Later, we connected with my husband Reggie and our sons before traveling to our home in Queens. After a quick lunch (from Subway?!), Reggie dropped my mom, sister and I off at the casino for a few hours. While my mom played  the games, my sister and I sat and talked for hours. It was so great to have that time to catch up with my sister in person because I hadn't seen her in a couple of years. My mom was happy because she made a profit and I was happy because I was able to spend some great, uninterrupted time with my sister. Win-win.
For dinner, my sister wanted to try some authentic NYC Chinese food, so we ordered a variety of dishes from a local Chinese food place. She actually ordered a moo shu pork dish that I loved. I'll definitely be ordering that again.
Sunday and (early) Monday
My mom, sister and I headed back into Manhattan after breakfast and church. Initially, I was going to take my mom and sister to Sylvia's or Amy Ruth's in Harlem for lunch. We decided to go to Virgil's instead so that we could make it to the downtown bus tour in time. Virgil's is a sentimental favorite of mine anyway because Reggie took me there when he asked me to be his girlfriend and directly after he asked me to be his wife.
After lunch, Go New York Tours, a NYC sightseeing tour company, hosted me and my family on their Downtown Double Decker tour of Manhattan. (I wish that my mother and sister had stayed a bit longer so that we could have enjoyed their Uptown Tour too.) I highly recommend a bus tour for visiting family…especially if your family members have any difficulty walking. We hopped on and remained on the hop-on, hop-off bus for the duration of the tour. The downtown tour alone had 16 stops. Having lived in NYC for more than half of my life now, I had visited 15 of the stops but I still enjoyed seeing everything through my family's eyes and on the top deck of the bus. (I need to visit #16/Carnegie Deli. I read that they have great sandwiches and cheesecake – one of my favorite desserts.) Without realizing it, I can sometimes take living in NYC for granted. It's good to look at the city and take photos through new eyes…
At my family's request, we had home-cooked teriyaki ribs later that night for dinner. After I prepared breakfast for my mom and sister on Monday morning, I dropped them off at Penn Station for their trip home. Just like that, our time together was over. I left the train station consoling myself with the words of Dr.Seuss:
Don't cry because it's over, smile because it happened.
That's where we stayed and what we did during my mom's visit to NYC. Where would you stay and what would you do with your mom?