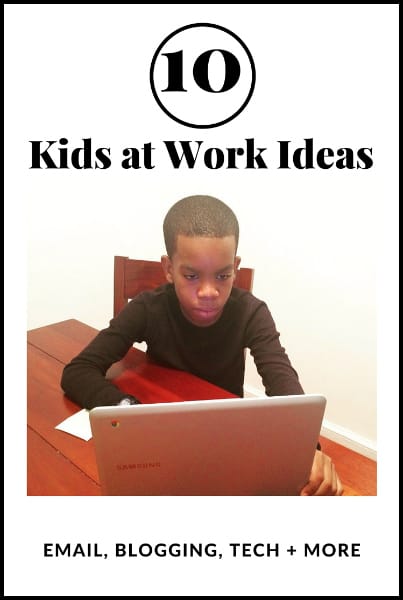 At the end of each year, my family has an annual tradition of talking about the things that we want to have, do, be, make and give in the upcoming year. It has been really encouraging for all of us to see how many of those things come true over the years. As 2015 came to a close, Michael (11) and Sean (8) mentioned that they wanted to make extra money. Michael wanted to eat out more with his friends after school. Meanwhile, Sean primarily wanted to save money for a big purchase. I asked them how much they wanted to be paid and they each asked for a certain rate. (Sean's first lesson was learning not to ask for too little. Learn it now child. Learn it now.)
Here's the thing…my husband Reggie and I don't pay our kids for a lot of things that many of their friends' parents do. We don't pay our kids for the following:
1. Household chores (making their beds, cleaning their room, swiffering, dusting and taking out the trash)
2. Schoolwork (homework, getting great grades and such) – Time Inc. even had a related cautionary post, Why Paying Kids to Do Homework Can Backfire, back in 2013.
Rather, we think that the main incentive for those types of positive things is that they get to be a part of this family. What? It has its perks! 🙂 As part of this family, Reggie and I do a lot. It's good for our kids to help out at home too. Besides, we don't want to raise them to be people who lack personal motivation for doing anything that doesn't involve a reward.
At the same time, we wanted to give them what they wanted (additional money) so we figured out that they could be my work assistants. Although it initially gave me additional work to come up with things for the kids to do, they have actually turned out to be really great little workers. Perhaps you can "outsource" some of these tasks to your kids too…
Things that I will gladly pay my kids to do:
1. Clean up broken backlinks. I have been blogging for over a decade and a lot of sites from the early years no longer exist so I needed to unlink them.
2. Help with social media. I like Twitter again and have become consistently active on it. (I'm @mominthecity.) I do my own social media posting but the boys help me by following back people from the years that I wasn't really active on it. They also unfollow eggs/followers with no pictures.
3. Unsubscribe from email newsletters. I keep an "Unsubscribe" folder in my email inbox where I place the ones that I no longer want. On the weekend when the kids do their work, they unsubscribe me. (I tried Unroll.Me to reduce the email clutter, but it wasn't as effective as I had wished.)
The prior three things are what I've already worked on implementing. The boys have done such great jobs so far that I'll be expanding their tasks as needed. Planned work includes:
4. Research. They are great at online research and knowing what is popular with kids.
5. Create PowerPoint slides. It's a skill that Michael learned at school.
6. Delete unused files from my computers.
7. Transcribe audio. Both can type and spell well, so why not?
8. Brainstorm ideas for kid-themed posts. They primarily give me the content for most kid birthday, book and holiday-themed posts anyway.
9. Contribute their own posts. Michael knows more about Marvel than anyone that I know. I usually get updates from him before I get press releases from PR firms. Meanwhile, Sean is a better photographer than I am so I can purchase some of his photos.
10. Housework outside of their normal responsibilities. Sometimes, I just need a little extra time to complete whatever I'm working on. In those instances they can fill in the gap.
Lessons Learned
Having my sons work for me has taught all of us a lot. It has taught me to be super specific when giving directions. It has taught the boys – especially my super tech-savvy oldest son Michael – to not be overconfident but to follow directions exactly at first. (It's totally fine to streamline things once you understand the given task.) Meanwhile, it has taught my youngest son Sean to trust his decision-making skills and not to come to me for every judgement call. ("Yes, it's fine if you follow the Twitter person who enjoys taking naps…like Mommy.")
By having the boys work for me, my husband and I have also been able to teach the kids some helpful financial principles. Our family values tithing so it has been sweet to see how the kids take a percentage of their earnings to either give to charity or our church. The kids are also much more mindful of their spending. If it's our (Reggie and my) money, they have zero cares about the cost of things. However, if it's their hourly earned money that is being spent, they are weighing the pros and cons of each purchase like Ebenezer Scrooge. I also sometimes give them the option to work for cash or products/blogger perks. They are smart though. They know that they will most likely get the kid products to review anyway, so they almost always go for the cash!
Hopefully, our efforts will help our sons to develop great work ethics. On the home-front, their future roommates or wives will be happy that they learned how to clean up after themselves and to help out as part of a family. Work-wise, they will be tech-savvy and have great employee and employer qualities.
I think that we have enough work options for the boys to start. If you have any other ideas for tasks that you can outsource to your kids for pay, I would love to hear them. Thanks!