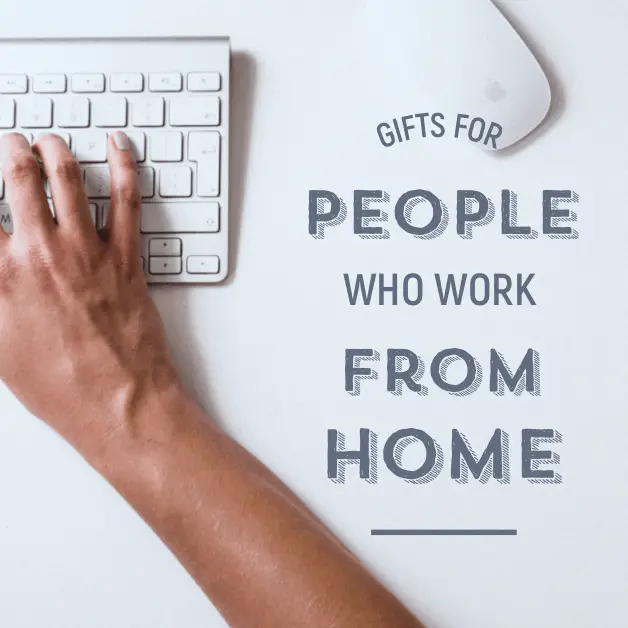 According to Stanford University research, 42 percent of the U.S. labor force now works from home full-time in 2020. Since this new reality will probably continue post-pandemic, it's important that those of us who work from home are properly equipped. Since I have been working from home for over 15 years, I want to share some of the best "Work From Home Gift Ideas 2020".
Work From Home Gift Ideas 2020
1. Headphones
In the 5 Tips to Create the Best Home Learning Spaces post, I mentioned that I have actually bought 5 pairs of noise-canceling headphones during these stay-at-home times. They really do help to provide boundaries and mental space. 
2. Upgraded Computers
Remote workers spend a lot of time on technology, so get them the best that you can afford. Now is the time to get them a better laptop, monitor or notebook – whichever the gift recipient prefers.
3. Workstation
The most challenging aspect of having my kids do remote learning and my husband teaching from home a few days a week is my revolving work area! I work in my bedroom part of the week and in my sons' room the other part. (The teens use the dining room and dining room instead of in the bedrooms.)

Initially, I purchased a lap desk for my youngest son to use on the living room couch but I'm the one who ended up using it! Whether it's an ergonomic lapboard or sit/stand desk, gifts that help workers shift spaces to get work done are all welcome gifts.
4. Blue Light Blockers
Kids aren't the only ones who need extra eye protection. As I mentioned in the 9 Important Eye Health Tips For Remote Learning post, blue light blockers can help. Anti blue light screen protectors and blue light blocking glasses are a couple of options.
5. Ergonomic Gifts
One of the downsides to remote working that has emerged is "new or worsening back, neck, leg, and shoulder pain" caused (in part) by poor ergonomics. I recommend an ergonomic office chair to help avoid "nerd neck" (when the head juts forward) and neck pain. (Ergonomic keyboards and ergonomic mouse pads are also helpful.)
6. Bookcase
If the gift recipient has space, bookcases are helpful for home office organization.
7. Dry Erase Board
I was SO excited when my husband bought a dry erase board for the days that he teaches from home. I quickly claimed one as my own. If the gift recipient has the space, a dry erase board on wheels is an even better choice.
8. Charging Aids
It's important to have a place to charge all of your electronics. Charging stations and power strip surge protectors are helpful.
9. Video Call Lighting
Video calls (Zoom, etc.) are part of the work from home experience. In addition to the Zoom "Touch Up My Appearance" filter, having a ring light for video call lighting can help elevate video call visuals.
10. All-in-One Printer
A printer that includes a fax and a scanner is one of the most helpful gifts for people with home offices. The great thing is that it is no longer expensive to get one. (For an extra special bundle gift, add extra printer ink and printer paper.)
11. Coffee Maker
Although I'm a tea drinker, most of my former office colleagues were coffee lovers. That is why a coffee maker is also one of my work from home gift ideas 2020.
I hope that these "Work From Home Gift Ideas 2020" are useful. If you are a mom who would like additional help and support to meet the challenges of being a work from home mom, I am here to help. I have a limited number of slots open for 1:1 coaching, so please contact me for more details if you are interested.
You Might Also Like: