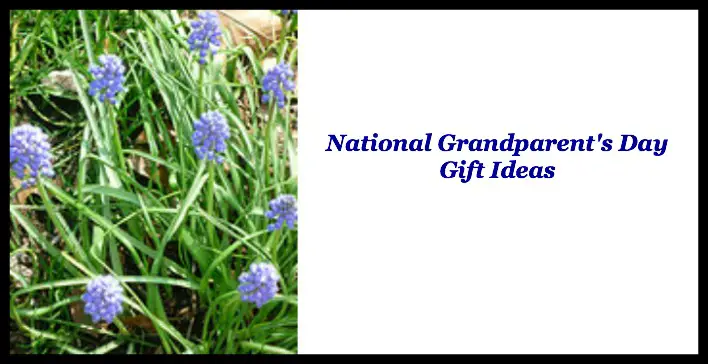 Sunday, September 8th, is National Grandparent's Day 2013. Grandparents are such a special gift in the lives of our children. My family spent Labor Day over at the home of my husband Reggie's parents. While my kids don't really get to interact that much with their grandmother (because she is in the last stage of Alzheimer's disease) anymore, it is especially sweet seeing them laugh with and learn from their "Pop Pop". My sons don't get to see my parents as much due to distance, but there is always a lot of laughter and love when they do!
If you are a "gift-giving for every holiday" type of person, then below are five great Grandparent's Day gift ideas…
1. Handmade Gifts: Grandparents are just as (if not even more!) sentimental as parents. As such, a heartfelt note, art or craft project from the grandkids rarely fail to be major hits.

2. Multigenerational Vacations: Plan an upcoming family vacation together. Multigenerational travel is a growing trend that makes a wonderful gift if you can afford it. Vacation experiences that appeal to the entire family (from grandparents to kids) is a great way to spend time together making memories.
3.Photo Gifts: Grandparents love to show off their family, so picture gifts are always popular. One great option is Mixbook Mosaic Photo Books. (I reviewed the service last year on a Making Memories post and it is still one of my favorite photo gifts.)

4. Books
:
Fall is right around the corner and curling up with a good book is a favorite fall activity for many. There is a little something for every type of grandparent. May I suggest Malcolm Gladwell's
David and Goliath
(for non-fiction fans) and
The Pioneer Woman Cooks: A Year of Holidays: 140 Step-by-Step Recipes for Simple, Scrumptious Celebrations
by Ree Drummond for grandparents who still enjoy trying out new recipes?
5. Local Experiences:
There is so much to do in practically every city (especially NYC). An experience gift can be as simple as taking the grandparents out to their favorite restaurant or to see a movie of their choice. As long as the experience is something that
they
enjoy, it will be appreciated.
All of the above gift options are fun options, but the greatest gift (in my opinion) is teaching our kids to take the time to honor and thank their grandparents often…not just on National Grandparent's Day!