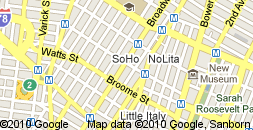 Recently a Mom in the City reader (who is heading to NYC to see Fences) asked for some suggestions. She wanted to have a nice early lunch and wanted to hire a car service. She is only only going to be in town for the day so she wanted to hang out in SOHO.

Below was my input:
-If you're going to use a car service, try www.Dial7.com. (If it's just for getting around in the city though, it's just as easy to catch the subway/hail a cab on the street.)
-Since you're going to be spending most of your time in SOHO, I suggest checking out the website http://www.sohonyc.com/
-(Mercer Kitchen is a great place to eat and http://www.balthazarbakery.com/home.php has great takeout desserts.)
-There are a lot of shopping places (Prada viewing?) Frommers has a Soho section that gives a glimpse of what you will find.
If any of you are SoHo fans, do you have any other suggestions to share?