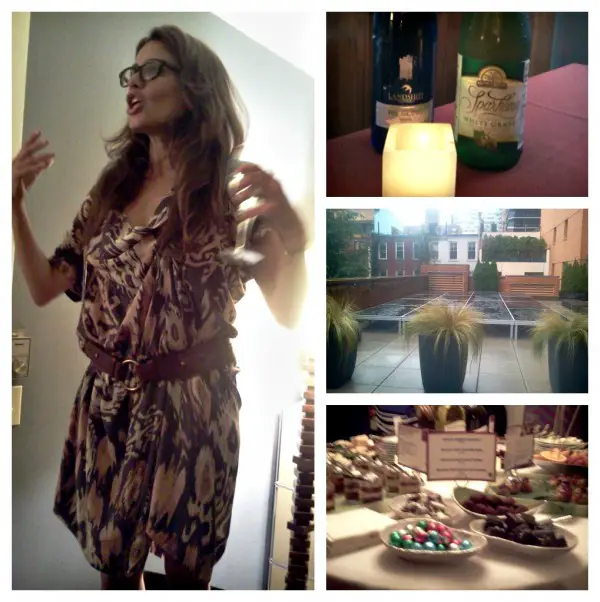 I attended a great social media event at my friend Isabel's beautiful home tonight. She had invited a group of writers and bloggers to a reception on her terrace to highlight the Dance Theatre of Harlem, a ballet company and school of classical ballet and the allied arts that was founded in Harlem. I was so impressed by Isabel's commitment. As someone who studied dance, Isabel shared how much dance helped to shape her character. I would say that it was a positive thing since she is one of my favorite people – lovely, smart and fun. Isabel even had a stage built on her terrace for some of the dancers to perform tonight. Unfortunately, that portion of the event needed to be canceled (rain!) but everyone had a great time anyway.
I spoke with some of the Dance Theatre of Harlem dancers during the reception. They were so warm, poised and personable. They encouraged me to come to their open performance on Thursday. I can't go because I'm leaving to visit Paris with my mom on Thursday, but you can attend. As part of their Thursdays @ DTH Open Studio Rehearsals, the public is welcome to see the new Dance Theatre of Harlem Company as they prepare for their inaugural season. (Did I mention that it's FREE?) While you are on the Dance Theatre of Harlem site, please be sure to check out their touring schedule and vote for them to win $30,000 in the AETNA Voices of Health Competition.
While I enjoy classical ballet companies, I think that companies like DTH are important for African-American and other racially diverse artists in terms of representation. Our skin tones and body shapes are different (not better or worse – just different), so it's important for little girls to have a visual of what they can accomplish if they work hard in any field. Michaela DePrince, who was featured in Teen Vogue earlier this year is a perfect example…
Even though I will have to wait to see DTH perform, fortunately I didn't have to wait to sample some of
ALDI's
seasonal dishes. (The bites were so delicious. I will share the recipes in another post.) ALDI was kind enough to both provide their award-winning wines and dishes as refreshments and to also make a generous donation to the Dance Theatre of Harlem. I consider that to be great corporate citizenship…especially since they just opened their first Manhattan store in Harlem's East River Plaza this month. I had never heard of the ALDI discount supermarket chain before this event, but I learned that they also have a location in Rego Park, Queens. I checked out their weekly ad since it is near my home and they have some really reasonable prices. (We were gifted a $25 gift certificate to the store which I will donate to a local non-profit.)
In any event, I had a great time catching up with several of my friends. It was also really great to see a fellow blogger (Isabel) team up with a community minded company (ALDI) in order to raise awareness of a wonderful community organization (the Dance Theatre of Harlem). It was definitely a great example of "social good".