It's interesting how tastes evolve over time. I wasn't a red velvet cake fan when I was younger but now I love red velvet desserts. That is why I'm resharing this recipe for red velvet cupcakes without buttermilk for Day 7 of the"A Dessert a Day 'Til Christmas 2021″ series. (Plus, red desserts look so "Christmasy"!)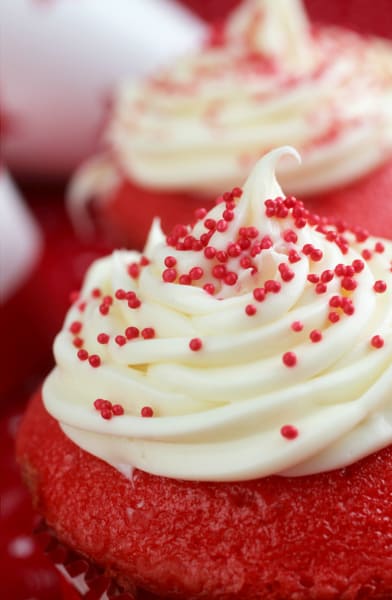 While I was at a cupcake baking class, several of my fellow students asked our teacher for a red velvet cupcake recipe. That wasn't part of the class, so I told them that I would post my favorite one.

I am very fortunate in that I have several friends who are excellent bakers (both home and professional ones). When it comes to red velvet cupcakes, a church friend named Anneil makes the best ones that I have tasted. Fortunately, he was kind enough to allow me to share his recipe with you!
I apologize in advance to those who have adverse reactions to food coloring. I have tried to find equally good substitutes for the "bottle of red food coloring" ingredient. Beet juice has been suggested as an alternate. Personally, I haven't especially liked the end taste with that substitution.

However, if you're unflinchingly averse to food dye, you could try that switch. (I also have two friends who have alternative recipes that they are trying to find for me. If they taste as good when I make them, I'll definitely let you know.) Meanwhile, below is Anneil's delicious recipe in my words.
Red Velvet Cupcakes Without Buttermilk
Anneil's Amazing Red Velvet Cupcakes
Yields 24 cupcakes
Ingredients:
Cupcake
2½ cups all-purpose flour
½ cup unsweetened cocoa powder
1 tsp baking soda
½ tsp salt
1 cup butter, softened
2 cups sugar
4 eggs
1 cup sour cream
½ cup milk
1 (1 oz) bottle red food coloring
2 tsp vanilla extract
Frosting
1 (8 oz) package cream cheese, softened
¼ cup butter, softened
1 tsp vanilla
2 – 2½ cups confectioner's sugar
Directions:
Cupcakes
1. Heat the oven to 350 degrees.
2. Mix flour, cocoa powder, baking soda and salt in medium bowl. Set these dry ingredients to the side.
3. Beat the butter and sugar in a large bowl for 5 minutes until the mixture is light and fluffy.
4. Beat in the eggs one at a time.
5. Mix in the sour cream, milk, food coloring and vanilla.
6. Gradually beat in the flour mixture until it is just blended. Be careful not to over-beat the ingredients.
7. Spoon (or scoop) the batter into a muffin pan cupcake paper-lined muffin pan.
8. Bake the cupcakes for 20 – 25 minutes until a toothpick inserted into the center of the cupcake comes out clean.
9. Cool the cupcakes for 5 minutes.
10. Remove the cupcakes from the pan and allow them to finish cooling completely.
Frosting
1. Beat the cream cheese and butter together until the mixture is light and fluffy.
2. Add the vanilla.
3. Gradually beat in the confectioner's sugar until the frosting is smooth.
That's it. If you follow the tips from my cupcake and frosting posts, it should be pretty simple to make these cupcakes. If you are a red velvet cake fan and have you been able to find an adequate substitute for the red food coloring ingredient, please let me know.
You Might Also Like
{Cupcake image courtesy of Canva. This post has been updated and republished. It was originally posted on May 19, 2011.}