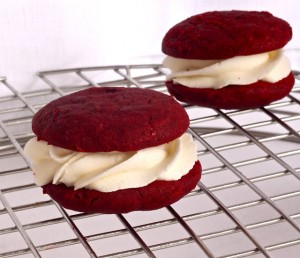 Red velvet cupcakes are a constant Valentine's Day favorite, but why not switch things up a bit this year? I love this idea from Lauryn Cohen, the founder of (the former) Bella Baker company, for red velvet whoopie pies. Lauryn was kind enough to share her amazing easy Red Velvet Whoopie Pies recipe with us so that we could make them for our little sweeties. Enjoy!
Red Velvet Whoopie Pies

Ingredients:
3 cups all-purpose flour
1/4 cup cocoa powder
1 teaspoon baking powder
1/2 teaspoon baking soda
1/4 teaspoon salt
1 stick (8 tablespoons) unsalted butter, softened
1/2 cup vegetable shortening
1/2 cup packed light brown sugar
1 cup granulated sugar
2 teaspoons pure vanilla extract
2 tablespoons red food coloring
1 cup buttermilk
Instructions:
Preheat oven to 350 degrees and line two baking sheets with parchment paper. Whisk together the flour, cocoa powder, baking powder, baking soda and salt in a bowl and set aside. In the bowl of a stand mixer with a paddle attachment, beat the butter, shortening, and both sugars on medium until pale and fluffy. Add the egg, one at a time, beating until each egg is fully incorporated into the butter and sugar mixture. Beat in the vanilla and the red food coloring. Reduce mixer speed to low, add half of the flour mixture, all of the buttermilk, and the other half of the flour mixture. Using a medium sized cookie scoop, drop the batter even mounds onto the parchment lined baking sheets. Bake one sheet at a time for 9-10 minutes, or until a toothpick inserted in the whoopie pie comes out clean. Remove from the oven, let cool for about 5 minutes and transfer to a wire rack to cool completely.
Cream Cheese Frosting

Ingredients:
1 stick (8 tablespoons) unsalted butter, room temperature
12 ounces cream cheese, room temperature
1 pound (4 cups) confectioners sugar
1 teaspoon pure vanilla extract
Instructions:
With an electric mixer on medium-high speed, beat butter and cream cheese until fluffy, 2 to 3 minutes. Reduce speed to low. Add sugar 1 cup at a time, and then vanilla, mixing until smooth and combined, scraping down sides of bowl as needed. If not using immediately, frosting can be refrigerated up to 3 days in an airtight container. Bring to room temperature again before using.
Assembly:
Fill a piping bag fitting with a star tip with your cream cheese frosting. Flip one of your Red Velvet Whoopie Pies over so the bottom is facing up. Starting from the outside, frost your whoopie pie in a circular motion, working your way in, until the entire circumference is frosted. Gently press the bottom side of another whoopie pie on top, creating a "sandwich".

Variations:
I love how pretty these look with minimal effort. If you wanted to add a little extra Valentine's oomph, you could coat the sides of the whoopie pies in heart-shaped sprinkles or even pink and red dot sprinkles. OR, make 'em mini simply by scooping out the batter with a smaller ice cream scoop. Lots of possibilities! Either way, enjoy these with your loved ones on Vday and it's sure to be a sweet celebration!