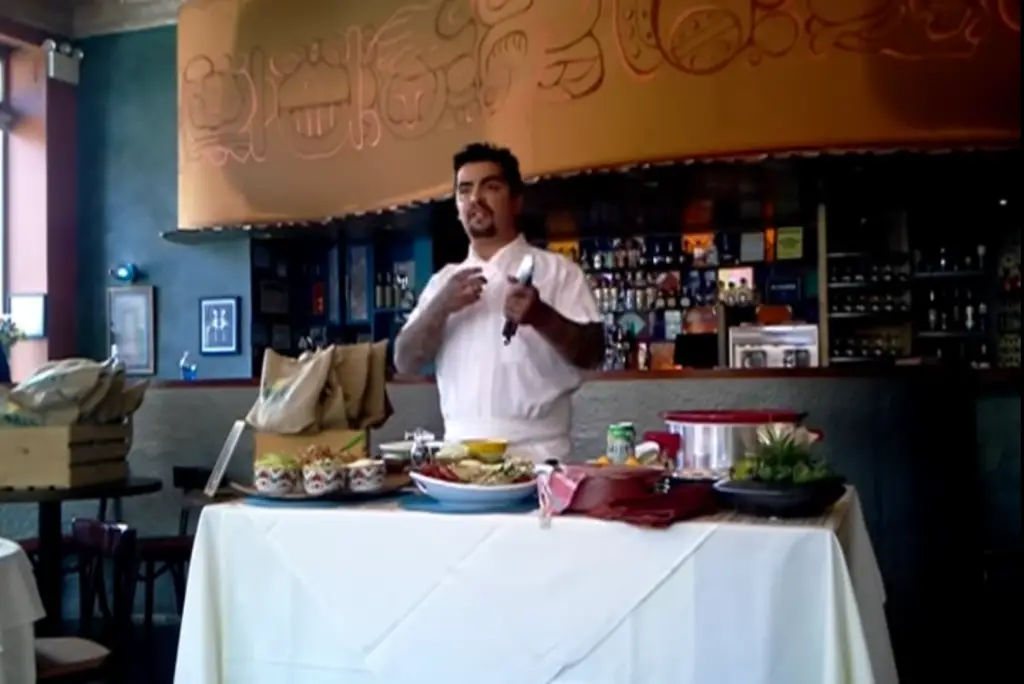 One of my "life menu" items was to meet and eat food prepared by 10+ Food Network chefs. I'm currently up to #12 (yes!) and I'm going to "up" the number to 20. In honor of Cinco de Mayo, I'm sharing these recipes so that you can easily make Cinco de Mayo food.

The recipes and videos are from the two Mexican Food Network chefs (Marcela Valladolid and Aarón Sánchez) whom I have met. Both chefs were warm, engaging and talented…much like my "in real life" Mexican friends.
Cinco de Mayo Food
Tequila Lime Shrimp
(Courtesy of Chef Marcela Valladolid for Sauza Tequila)
Ingredients:
• 1 pound large shrimp in shell (21 to 25 per pound), peeled and deveined
• 1 tablespoon lime juice
• 2 teaspoons Salt
• 1 teaspoon kosher salt
• 2 tablespoons Butter
• 1/4 cup Sauza Blanco Tequila
• 1/4 cup green onions
• 3/4 cup crema or sour cream
Directions:
1.Toss shrimp with salt, green onions, lime juice, kosher salt and 3/4 teaspoon coarsely ground pepper.
2. Heat butter in a 12-inch heavy skillet over medium-high heat until foam subsides, then sauté shrimp, turning, until pink and just cooked through, 3 to 5 minutes.
3. Reduce heat and add Sauza blanco, then increase heat to medium-high.
4. Tilt skillet over gas burner to ignite tequila (or ignite with a long match; use caution, as flames may shoot up high). Cook, shaking skillet gently once or twice, until flames subside.
5. Remove from heat and stir in crema. Serve sprinkled with chili powder.

Slow Roasted Chipotle Chicken
(Courtesy of Chef Aarón Sanchez and Sierra Mist Natural)
Ingredients:
• 2 pounds of boneless, skinless chicken thighs
• 1 large white onion, thinly sliced
• 2 garlic cloves, minced
• 2 chipotle peppers in adobo, finely chopped
• 1 teaspoon ground cumin
• 1 12oz can Sierra Mist Natural
• 1 15oz. can fire-roasted diced tomatoes, with their juice
• Salt to taste
Directions:
1. Put the chicken in the bottom of a 4- or 6- quart slow cooker and scatter on the onions, garlic, chipotle and cumin. Pour the tomatoes and Sierra Mist Natural over all and cover.
2. Cook on high for 4 to 5 hours or low for 7 to 8 hrs.
3. To serve, mound the chicken into warm flour tortillas and top with shredded lettuce and queso fresco.

The great thing is that you can enjoy this Cinco de Mayo food any day! If you enjoyed these recipes, please share this post. In addition, consider signing up for my weekly email newsletter so that you don't miss future updates. Thanks!
You Might Also Like