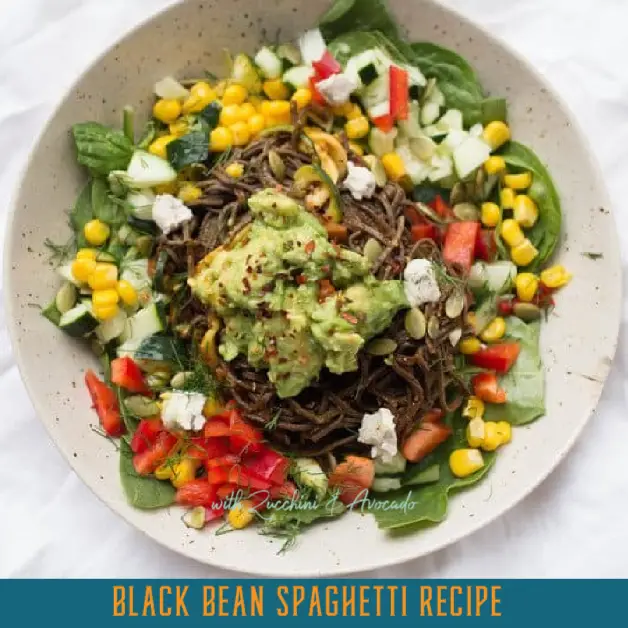 Can you believe that it's almost May? I like to kick off the month by celebrating Cinco de Mayo. I scrolled through all of my Cinco de Mayo email messages from the past and realized that I had not shared a recipe for black bean spaghetti with you.
Black beans (frijoles negros) is a common dish that is made in Mexico and other Latin American nations. I like the idea of switching things up by trying this (pasta alternative brand) Explore Cuisine black bean spaghetti recipe.
Their Southwestern Black Bean Spaghetti blends classic Mexican flavors in a nutritious way. I'm not vegan or gluten-free but I know that several of my readers are. That is why it's good to know that Explore Cuisine products are vegan and gluten-free as well as being non-GMO. Enjoy!
Recipe for Black Bean Spaghetti
Southwestern Black Bean Spaghetti
Ingredients:
¼ box Explore Cuisine Black Bean Spaghetti
½ zucchini, spiralized into "noodles"
¼ Red Bell Pepper
2 handfuls Baby Spinach
¼ cucumber
¼ cup corn (Canned corn in water is great. Just rinse the corn)
¼ avocado, mashed with fresh organic lemon juice
1 tbsp vegan cheese
Adobo Chipotle sauce (or make your own with the below ingredients)

4 dried ancho chiles, seeded and deveined
4 dried guajillo chiles, seeded and deveined
2 teaspoons peeled and minced fresh ginger
¾ teaspoon ground cumin
1 ½ teaspoon kosher salt
¼ teaspoon freshly ground black pepper

Pumpkin seeds + dill for garnish
Directions:
Start by boiling a big pot of water for your black bean spaghetti. Once boiled, add the Explore Cuisine Black Bean Spaghetti and let cook for 6 minutes.
Once done, remove from heat, rinse under cool water and set aside.
Prep your veggies! Finely dice your cucumber, bell pepper, mash your avocado, spiralize your zucchini.
Next, add a spicy adobo chipotle sauce to your noodles and zucchini noodles. 
Combine the ancho and guajillo chiles in a large bowl and add plenty of cold water to cover. Let them soak until soft, about 30 minutes.
Place the soaked chiles in a blender along with the ginger, cumin, salt, and pepper.
Blend until very smooth. Stop the motor a few times to scrape down the sides with a spatula and give things a stir, just to make sure everything's getting puréed. Don't be tempted to add liquid—you want the final sauce to be thick.
Scrape the purée into a small bowl if you plan to use it soon, or into a jar with a tightfitting lid if you want to save it for later. It'll keep in the fridge for up to 5 days, or in the freezer for 3 months.

5. Add a few handfuls of baby spinach to a large bowl.  Add some noodles, guacamole, then add cucumber, red bell pepper, vegan cheese, pumpkin seeds, and freshly chopped dill!
If you found this post helpful, please share it. In addition, consider signing up for my weekly email newsletter so that you don't miss future updates. Thanks!
You Might Also Like
{Recipe and photo in the top image are by Lee Tilghman of Lee From America courtesy of Explore Cuisine.}