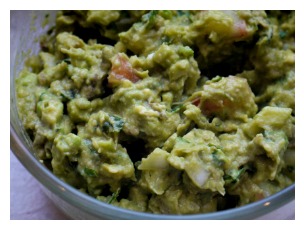 Since we have started Taco/Mexican Tuesday night dinners at our home, I have been learning such delicious new recipes. I have a recipe for simple crockpot black bean, salsa, and more which I will share over time. Today, I want to share an easy guacamole dip recipe along with my process for coming up with foods that both my family and I enjoy. (Cooking really isn't that complicated!)
As you may know, I have a somewhat obsessive personality. Once something gets "stuck" in my mind, I just have to figure it out. That's what happened with my desire for a great, homemade guacamole. I didn't grow up eating guacamole, so I went to my local grocery store and looked at the ingredients on the pre-packaged guacamoles. (When I can't pronounce the ingredients, I move on!)

I was pleasantly surprised to find Calavo's guacamole with 8 real ingredients: Hass Avocados, Tomato, Onion, Jalapeno Pepper, Salt, Cilantro, and Garlic. Since I had (and enjoy!) 6 of the 8 ingredients in my home already, I decided that this was the type of guacamole that I would make. So, I bought a couple of Mexican avocadoes (since Chef Aarón Sanchez said that they are the best to use) and some jalapeno peppers.
I was all set. Well almost…avocadoes are hard when you buy them. You need to keep them in a brown bag for 5 days or so before they are ready to be used. Finally, the avocadoes were ripe enough for me to make guacamole yesterday. I knew what I wanted to put into my guacamole, but I still needed to figure out the amounts to use.
I put all of the ingredients into my google search bar to see which recipes popped up. (I usually look at the first 5 to see what commonalities they have and start experimenting from there.) This time, I couldn't find any recipe with all of the ingredients, but a Martha Stewart one came close. I have changed several things including adding an extra half of an avocado (the flavors were too strong with just 1) and garlic and including all of the tomato.
I also changed the preparation. I'm simple so I didn't need any special tools, besides the back of a spoon, in order to mix this guacamole together. Also, I like my guacamole to be a little more substantial, so I don't finely chop anything…except for the jalapeno and garlic.
In any event, I loved, loved, loved the final result of this easy guacamole dip recipe. Michael (the only other avocado eater in my home) did too. It's the second best guacamole that I have ever tasted.  Chef Aarón Sanchez's guacamole at Centrico is still the best. Oh, well…here you go:

Pico De Gallo Easy Guacamole Dip Recipe
Adapted from
Classic Mexican Guacamole from Martha Stewart Recipes
Yield: Approximately 1½ cup
Ingredients:
• 1 ½ ripe Mexican Hass avocado, peeled, pitted and lightly mashed
• 3 tbsp tomato, chopped
• 1 1/2 tbsp chopped onion
• 1 1/4 tsp jalapeno, seeded and finely chopped
• Salt to taste
• 1 tbsp plus 2 tsp chopped fresh cilantro
• 2 cloves garlic, finely chopped
Directions:
1. Mix all of the ingredients together in a medium bowl. Sprinkle with salt to taste.
2. Use immediately or as another option, cover the bowl with plastic wrap and refrigerate the guacamole for 30 minutes before serving.