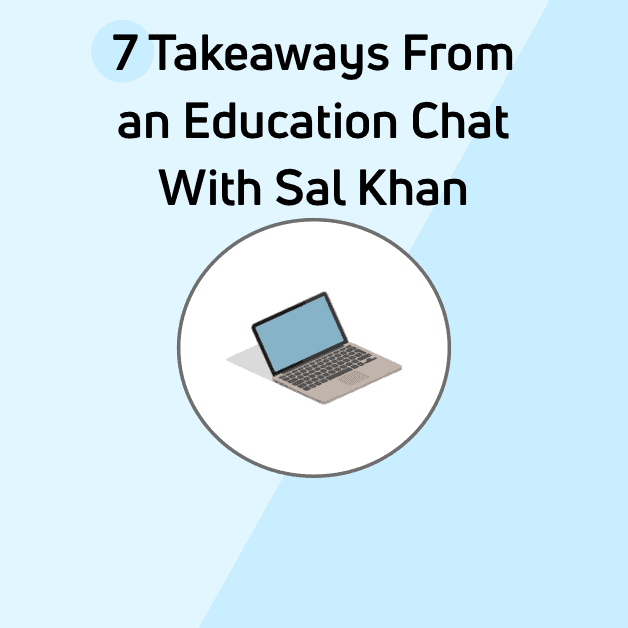 Since Google Classroom was one of the web services that NYC schools used to connect students and teachers earlier this year, I checked to see if there were any updates. While doing so, I tuned into the Google for Education's Anywhere School event. 
While I was able to get a better understanding of Google's education products, the highlight for me was the"Fireside Chat with Sal Khan". He is the Founder & CEO of Khan Academy, a free online education site. As a lover of public education, I appreciate that the Khan academy mission is to "provide free, world-class education for anyone, anywhere". During the talk, Khan shared his thoughts on  COVID-19's impact on education, what he has learned in developing curriculum for remote learning and more.
As a parent, Khan Academy has been a great resource for my family. (The Physics section was especially helpful last year!) My husband and many of his fellow educators also recommend Khan Academy to their students for other subjects also.
Anyway, I want to share the parts of the talk that stood out for me. Afterward, I'll share the full video so that you can hear him for yourself.
1. Impact of COVID-19 on Education
In early crisis learning days, Khan's team  was improvising to meet users' needs. Parents were asking for things like daily schedules to help structure their days during school closures, learning plans, webinars and the like.
2. Grit and Resilience
Khan was able to learn and share insights from various people during his"Homeroom with Sal"livestream conversations. His conversation with Angela Duckworth, the author of Grit: The Power of Passion and Perseverance stood out to me. They spoke about grit and resilience – how to keep kids motivated and engaged during these times. 
Angela Duckworth talks about helping children develop grit and resilience | Homeroom with Sal
3. Growth Mindset
Having a growth mindset is something that Khan talks about a lot. He embraces Carole Dweck's notion of a growth mindset. (Dweck's book Mindset: The New Psychology of Success helped me out so much with the middle school transition for my oldest son. It's a pretty"dry" read but it's worth getting through.)

The book encourages the reader to push outside of their comfort zone. Khan also spoke about embracing and learning from failures. Fortunately, there are ways to create a growth mindset. Reflecting on failures and learning from them is one such way. We can all learn our weaknesses and still keep growing. 
4. Mastery Learning
The traditional academic model doesn't necessarily support a growth mindset. Khan talked more about mastery learning. That's the idea of holding fixed that a student should master a concept but how long they take to do so should be variable. This allows kids to learn at their own pace. Almost any student can thrive in any subject with this approach.
Learning not being bound by time and space is essential now. Technology can help. Online tools shouldn't be considered a replacement for teachers though. Khan noted that he would pick an amazing teacher over amazing technology every time. Rather, technology should be in service to amazing teachers and pedagogical goals (what the student will be capable of doing after the lesson). Khan's pedagogical belief is that every kid has different gaps. Every kid learns at a different pace and teachers need more data so that they can do more focused interventions.
Learning Gaps Have Increased During This COVID-19 Time.
Every year, there is a summer slide. This year, there is also a COVID slide. This makes personalization, mastery learning and real-time data for teachers even more important.
Remote learning didn't work for many in the spring. Partially, it's an issue of timing. Devices and Internet access were issues. Keeping kids engaged was another. Classroom management (monitoring what kids were doing; making sure that they were not doing something else in another window while class was in session; etc.) was challenging. 
Going into the fall, it's still a sub-optimal situation.
5. The Digital Divide
The conversation about the digital divide/access disparities focused on schools in the past. COVID-19 has now highlighted the digital divide at home. Connectivity is not just an academic issue but it is also an economic and mental health issue. 
6. Best Practices
Khan Academy has a playbook coming out soon regarding what worked and didn't work. Some best practices include the following: 
Daily practice 
Video conferencing insights (teachers "pulling" kids out of the screen by calling on them to work on problems, using digital breakout rooms, etc.) 
Validating students' work (how to proctor)
Less lectures and more small group settings 
7. Lessen the Strain on Teachers.
Teachers shouldn't feel the need to exactly replicate school. Rather, the focus should be on areas that they can't drop (glass balls). For Khan, math, reading, writing plus a sense of community and mental and physical health are key.

If teachers can do 2-3 sessions a week, that would be great. If students can get 20-60 minutes a day practice, they probably won't atrophy. For English, Raz-Kids (https://www.raz-kids.com/) and Lexia Learning (https://www.lexialearning.com/) are recommended resources as well as reading and writing (i.e. blog posts andjournaling). Khan Academy is recommended for math, science and college prep.
*Bonus
Thank teachers! Khan encouraged teachers not to let constraints dim their inner light. Although these times are sub-optimal, teachers still have so much to give. He encouraged them to share their light,  move forward, and make a dent on the universe.
My husband Reggie is a high school math teacher so I immediately shared this portion with him. Since things are so uncertain here in NYC, teachers are under a lot of pressure. Teachers (the good ones, anyway!) want to do what is best for the students. At the same time, they want to stay healthy and keep their families safe. There are no easy answers. I am proud(er than ever) to be a teacher's wife!
In any event, I learned a lot from this talk. You can hear the full chat below:
More Helpful  Resources 
P.S. This is NOT a sponsored post. As I prepare myself for remote schooling this fall, I'll just be sharing what I'm learning along the way.