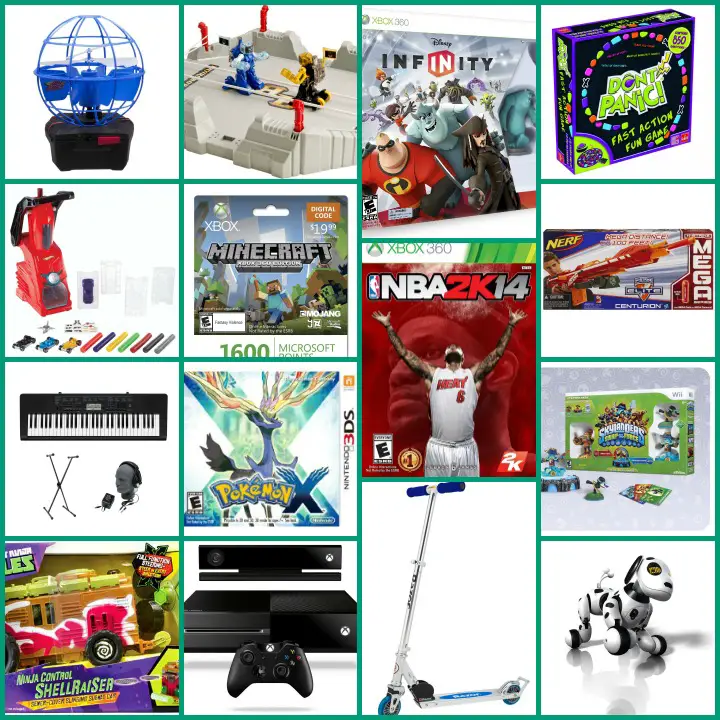 (Originally posted on 10/17/13; updated with videos of reviewed items)

I am excited that I have my top picks for Holiday 2013 out in October this year. (If you are like me, then you are trying to get most of your shopping done earlier this year.) While I will be sharing some other options as they come up, below is "Mom in the City's 2013 Holiday Toy List: 15 Hot Holiday Toys for Elementary School Aged Boys". As always, they are a combination of toy "expert" picks, conversations with other moms and (most importantly) conversations with a variety of actual elementary school aged boys. Happy (early) shopping!

1. Air Hogs RC AtmoSphere

This levitating sphere that hovers above surfaces is a hit with kids. (The fact that it doesn't require a separate remote control is a hit with me…)
2. Battroborg 3-in-1 Battle Arena

My sons and their friends can watch Real Steel, a movie about boxing robots, over and over again. With the Battroborg game, they can actually control the motion controlled battling robots.
3. DISNEY INFINITY Starter Pack

In this game, the kids can play with their favorite Disney and Disney/Pixar characters various ways. (For a behind the scenes glimpse of Disney Infinity, you can read my Disney Infinity Toy Box Tips: Gameplay, Power Discs & More post from August of this year.

4. Don't Panic Game

Family games are great gift options and this party game is so much fun! Naming themed things doesn't sound so hard. Adding a timer and some random themes is what makes it exciting. (Things in Nashville was the theme that stumped our crowd!)
5. Hot Wheels Car Maker Playset

This update to classic hot wheels is a winner. In just a few minutes, kids can make their own customized racecar using wax sticks, the carmaker machine and more.
6. Minecraft
Minecraft is still extremely popular. You can buy it for PC or Mac computers or for the Xbox 360. There is even a new Pocket Edition that is available for most iOS and Android devices. (I still don't "get" the big thrill of placing blocks to build things as a game, but I definitely prefer it to many of the other video games that are out there vying for our sons' attention!)
7. NBA 2K14

This game update is an annual favorite…


8. Nerf N-Strike Elite Mega Series Centurion
I have given up on my quest for my sons not to play with guns at all. Now, I just insist that they are OBVIOUSLY fake ones. Nerf ones fit the bill nicely…

9. Casio Keyboard
Music is one of the greatest gifts. This Casio keyboard is a great way to introduce your kids to playing music. (I bought this set for Sean earlier this year. The headphones and songbook that come with this set are not very good, but the keyboard and stand are excellent/make the package well worth the price.) I use and recommend the
John Thompson "Easiest Piano Course"
to teach Sean the basics. If you have piano experience and plan on teaching your child yourself, this is a great option.

10. Pokémon X and Y
Pokémon, another annual favorite, has a new twist this year. For the first time in the main series game, Pokémon X and Y features three-dimensional gameplay. Seeing the characters and creatures in 3D takes the game to a new level.

11. Razor Kick Scooters
The holiday season is the perfect time to get gifts like bikes and scooters. Our kids have both, but they get more use out of their scooters. Razor makes some easy to fold, compact kick scooters. The A5 is an especially good choice for city kids, because its larger wheel handles sidewalks well.
12. Skylanders SWAP Force
This is the third main game in the popular Skylanders series. It is on the holiday lists of many boys already.

13. Teenage Mutant Ninja Turtles Ninja Control RC Shellraiser
COWABUNGA dude! It's a little wild that the Turtles are especially popular again, but they are. That is why this R/C (the Turtles' main group vehicle) will make an appropriate transporter for the current Teenage Mutant Ninja action figures.

14. Xbox One Console
If a $500 family gift is in your budget, then this is the one to get. All of the gamers in your home will appreciate it. Up to eight controllers will be able to connect to the Xbox One, making this a multi-player console dream. Then, there is also the Kinect motion sensing technology…nothing out there in the gaming arena still compares to it (in my opinion). The current scheduled release date for the Xbox One is November 22nd.

15. Zoomer
What can I say? This playful interactive robotic dog makes the perfect city pet…especially if your building doesn't allow pets or a loved one is allergic to dogs. (Sean wants one, because Reggie is allergic to dogs!)
Those are my top 15 picks. I will be receiving some of these items to review over the next few weeks and will update this post with the review videos. (I will be doing a separate list of book gift ideas since we are a book-loving family!) Also, my affiliate partner Amazon.com announced its 2013 Holiday Toy List
earlier this week. It features some additional holiday toy picks that you might want to consider.

If your sons have been asking for something that I didn't include, please let me know in the "Comments" section below. Thanks!

{Images courtesy of my Amazon affiliate partner.}