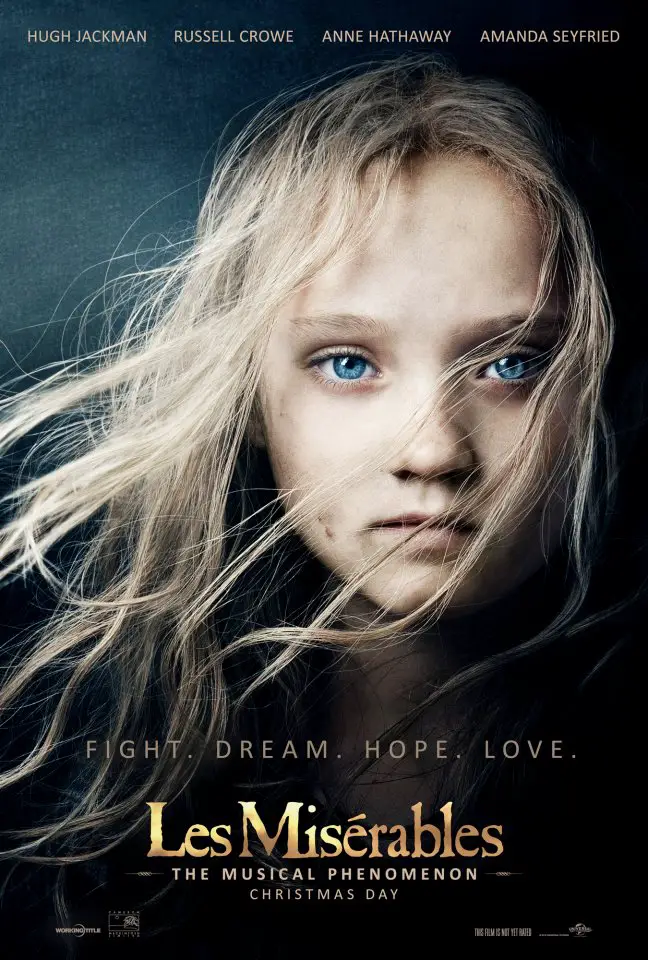 I have been wanting to write about LES MISÉRABLES since I attended the New York screening last month. After drying my eyes at the end of the movie, I left the theater thinking, "When everything is said and done, love really is the "dream". As a dreamer by nature, it was so meaningful for me to walk away from a movie with a deeper realization that I'm already living "the dream". I have the four kinds of love that the movie so vibrantly illuminates…
1. The unconditional love of God (agape)
2. The love of close friends (philia)
3. The love between family members (storge)
4. The intimate love of my husband (eros)
That, in and of itself, was worth the price of admission! (Granted, I didn't pay to attend the screening but I loved it so much that I am paying for a group of girlfriends to go to this movie with me as their Christmas gifts. It was that good!) I am going to write a series of posts about this movie so that this will not be a super long essay. However, I wanted to share quick snippets regarding my thoughts about the major character performances in the film. Before I get to that, take a look at the LES MISÉRABLES trailer:
Now, for the performances…
-Jean Valjean: Hugh Jackman did an amazing job. Even though I know that he has performed on Broadway and is really talented, I went into the theater wondering if "Wolverine" could pull off this role. Let's just say that if he doesn't get at least an Oscar nomination for this role, then there is no cinematic justice.
-Javert: Russel Crowe pulled off something that is very difficult to do…he made the antagonist of the movie sympathetic! I have heard some critics mention that his singing isn't that great, but I don't care. I personally think that he should make room on his mantle for another Academy Award. He deserves one for this role.
-Fantine: Anne Hathaway did a marvelous job. If it wasn't for the fact that her character isn't in the movie a whole lot, she would be an Oscar shoo-in. (She still might get one if they nominate her as a supporting actress.) She definitely made the most of her time in the film. When she finished singing "I Dreamed a Dream", the entire movie theater audience burst into applause!
-Cosette: Amanda Seyfried did a capable job in this role. I wasn't overly impressed. She didn't really add to or detract from the movie in my opinion…but that could totally just be how her character was written.

-Marius Pontmercy: Eddie Redmayne did such a wonderful job with this role. When he sang after losing his friends in battle, it was so emotion-filled that it made me cry.
-Éponine: Samantha Barks makes you fall in love with this character. If you have ever experienced unrequited love (or just the experience of not being chosen for something that you really wanted!), your heart will go out to her. While I knew that Cosette and Marius were "meant to be", there was still a part of me that wished he would fall for Éponine instead. You would have to be a bit heartless not to feel for her as she sings the following lyrics in "On My Own":
"I love him
But everyday I'm learning
All my life
I've only been pretending
Without me
His world will go on turning
The world is full of happiness
That I have never known
I love him
I love him
I love him
But only on my own"
(Le sigh…)
-Monsieur Thénardier and Madame Thénardier: Sacha Baron Cohen and Helena Bonham Carter are a hilarious duo in these roles as husband and wife innkeepers. They are greedy, conniving awful people…but they made me laugh every time that they were on the screen. Their performances were brilliant!
In addition to the strong cast, the cinematography, costumes, music and sets were also all well done. I have so much more to write, but I am going to stop here for the moment. I will be sharing more about the Jean Valjean, Javert and Fantine characters in the upcoming days. They will each get their own individual posts, because they deserve them.
In any event, have you seen a past film or theater version of LES MISÉRABLES? Are you planning on going to see this one? While I wouldn't recommend this as a family movie, it's definitely a great date or "ladies night out" movie. Just be certain to wear waterproof mascara and to bring your tissues!
{Post image courtesy of Universal Pictures}