Congrats to the winner, Livivua Chandler!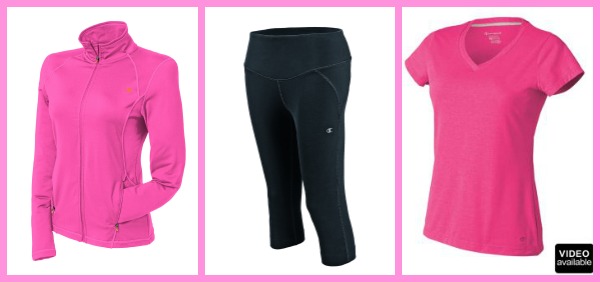 Credit: Champion
When it comes to gifts, my mantra is "give them what they want". Every mom is different, so that is why it is challenging to put together a gift guide. I decided to put together one this year, because here are several items that I have been hearing moms talk about a lot, so I wanted to share them. I'm also turning 40 in May, so I thought that it would be great to make 40 gift picks.
For the first time (I think ever!), there isn't anything that I personally want for my birthday or Mother's Day. I wanted a trip to Paris before I turned 40 and that happened last October. I wanted an Apple iPad Mini
and Reggie gave me one as a gift for Valentine's Day. Then, I wanted a cast iron skillet
(after borrowing one from a friend to make my friend Jennie's ). That same friend was so sweet that she bought me one after I returned hers. Every week, my husband Reggie asks, "Are you sure that you don't want anything?" Since I really don't, we're going to bring my mom up to NYC for the weekend to celebrate her. (She did all of the work by giving birth to me!)
Anyway, for the first 8 Mother's Day gift ideas, I am making home cook and fitness picks. (Many moms enjoy cooking and appreciate the gift of health and fitness.) You have to be careful when giving food and fitness gifts though. Some moms don't want a kitchen appliance or gadget as a "gift" while others might take a fitness present as a "hint" that you think that they need to lose weight. The takeaway: KNOW YOUR GIFT RECIPIENT! 🙂
Home Cook Picks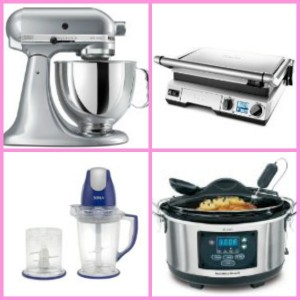 1. KitchenAid Artisan Series 5-Quart Mixer
: Practically every cooking school that I visit and baking-loving friend that I have use this type of mixer. Not only is it great for baked goods, but you can also buy a variety of attachments – like pasta making ones – to use the mixer in new and different ways.

2. Breville Smart Grill
: Oh, how I love my Breville indoor grill. Let me count the ways… It is versatile, compact, easy to clean, gives "real(ish)" barbecue results and is a healthy cooking preparation choice.
3. Euro-Pro Ninja Master Prep Blender and Food Processor
: It's not a Vitamix blender
, but it works perfectly for my morning smoothies, marinades and such. (Now, if you can afford to splurge and get a Vitamix blender
, that's a great option too!)

4. Slow Cooker
: I love my slow cooker, because I can just set it and forget about it. On my especially busy days, it's the only way that my family gets home cooked meals. I'm not brand loyal when it comes to slow cookers though. The pricier ones tend to have more settings and options, but the basic ones meet the basic slow cooking purposes.
Fitness Picks: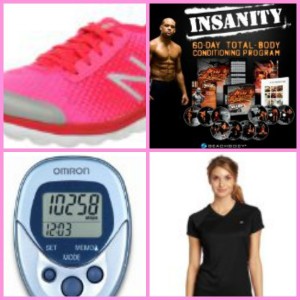 1. Fitness shoes
: Many of my girlfriends have started signing up for walks and runs. While I haven't been inspired enough to join them, I have made note of their cute shoes. New Balance has some really colorful, lightweight walking shoes (the Superlight Superfresh 895v2
) that might even inspire moms like me to take up long distance walking…
2. Exercise DVD
: While memberships (Cross-fit anyone?) are great for those who have the time to actually go to the gym, practically anyone can fit in time for an at-home workout. INSANITY DVD Workout
is the "hot" workout right now. As for me, I have revived my love of Billy Blanks' Tae Bo Classic
!
3. Pedometer
: 10,000 steps a day – that's all that most people need to take in order to get the recommended minimum daily exercise. A simple pedometer can help. (For those who want more advanced measurements, the Fitbit Wireless Activity Plus Sleep Tracker
is a popular option.)
4. Fashionable Workout Clothes
: I will admit that exercise (for the sake of exercising) is not my favorite thing to do. One thing that helps spur me on though is having cute, new workout clothes. There are several companies that make great fitness clothing. Champion
is one trusted brand that makes quality clothes at reasonable prices.
Speaking of Champion…

Champion is sponsoring a "Fit for Mother's Day" giveaway for one lucky Mom in the City reader. The winner will receive the following 3 items:
1. A Champion® Power Cotton™ Women's T Shirt ($20)

2. A Champion PowerTrain Double Dry®+ Absolute Workout Women's Jacket ($45)
3. Champion Double Dry® Absolute Workout Fitted Women's Knee Tights ($36)
To enter to win this Champion set ($100+ value), simply leave a let me know your favorite food or fitness gift pick in the "Comments" section below. The winner will be chosen in a random drawing on May 10th at noon. Good luck!
{This post contains links and photos from my Amazon affiliate partner.}