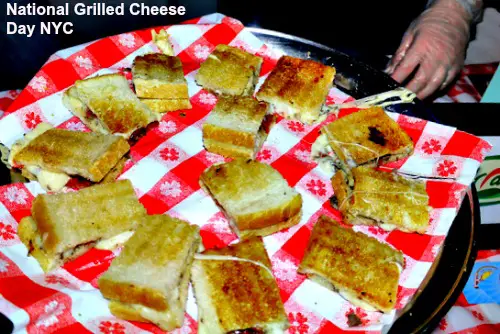 National Grilled Cheese Day is today (April 12th). Buttery and crispy on the outside while melted and gooey on the inside –it's no wonder that grilled cheese sandwiched are being celebrated! There was a time that grilled cheese was one of the few meals that my youngest son Sean would eat. (Thankfully, his tastes have expanded.)
While a basic grilled cheese sandwich is easy to make for most people, you can turn it up a notch depending on the bread, types of cheeses and add-ons that you use. There were several restaurants in NYC that turned this easy comfort food into something extraordinary. Unfortunately, three (of my five original) top picks have closed down over the years. Thankfully, two remain…
1. Big Daddy's Restaurant (Upper East Side, Upper West Side, Murray Hill, and Gramercy Park): When I attended the Comfort Classics at New Taste of the Upper West back in 2011, Big Daddy's grilled cheese pushed me to the "I can't eat anymore" point.
On their menu:
COFFEE SHOP GRILLED THREE CHEESE
Vermont cheddar, American & Swiss, on thick hand-cut marble rye. (You can also add bacon & tomato.)
2. Milk Truck Grilled Cheese (various truck locations in Manhattan and outdoor markets in Brooklyn): When "grilled cheese" is in the title, it leads to great expectations. Fortunately, Milk Truck offers a variety of delicious combinations for the cheese connoisseur. Be sure to check their site for various locations and the menu for the week.
On their menu:
Three Cheese Grilled Cheese
Aged Gruyere, Aged New York State Cheddar and Wisconsin Blue with Caramelized Granny Smith Apples on Blue Ribbon Bakery Rosemary Pullman
{Updated: Artisanal, Chelsea's Table and The Royal (which were initially included) have closed.}