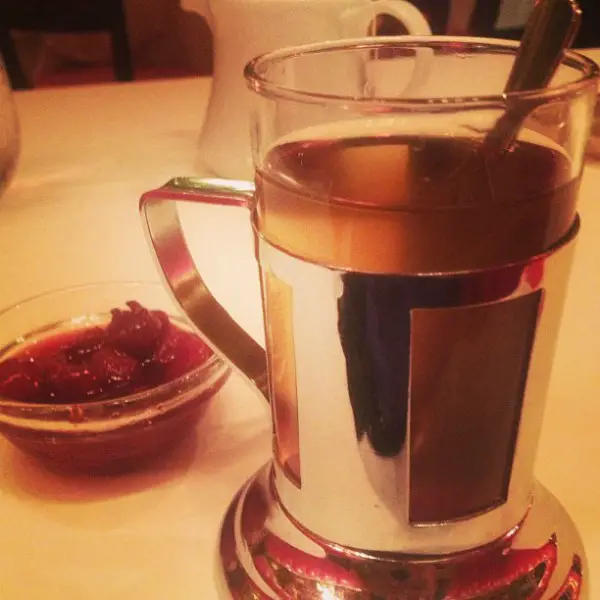 You still have until Friday (8/16) to enjoy NYC's Summer Restaurant Week. It's a great opportunity to try some of the best NYC restaurants for $25 for lunch or $38 for dinner. This year I went to lunch at the Russian Tea Room with my friend Renee. (She had also enjoyed the offerings at Devi, Le Cirque and Red Rooster this restaurant week.)
Prior to having lunch with Renee, I had only visited the Russian Tea Room for high tea that I shared about on the "High Tea at The Russian Tea Room" post. I enjoyed the tea so much that I ended my restaurant week lunch with a nice chamomile tea (for an additional $10). Both Renee and I were extremely pleased with our three course meals. This is what we ordered:
APPETIZERS
-Renee: Traditional Tea Room Red Borscht
Pickled red beets, seasonal vegetables and dill in a short rib broth served with a braised beef pirozhok
-Me: Tea Room Market Salad
Mixed market greens with mushrooms and goat cheese with tarragon vinaigrette
MAIN COURSES
-Renee: Filet of Beef
Pan-seared filet with garlic mashed potatoes, baby vegetable and a red-wine reduction
-Me: Salmon
Roasted salmon filet with saffron jasmine rice, baby zucchini and citrus burre blanc
DESSERT
-Renee: Chocolate Pyramid
Bittersweet chocolate mousse with a raspberry filling
-Me: Traditional Cheesecake
Vanilla cheesecake
Both the service and the food were excellent. My favorite item was the salad. It was one of the best salads that I have ever tasted and now I'm on a mission to recreate it at home. With the meaty mushrooms, the salad would make a great, light summer lunch all by itself.
I didn't take photos of the food because this lunch was a casual time with a non-blogging friend. I did snap a photo of the tea when she went to the restroom though. (I know…I have a problem! ☺) The Russian Tea Room is the only place that I drink tea with cherries though, so I wanted a memory!
For other great restaurant week options, you can read my 8 Personal NYC Restaurant Week Recommendations post from earlier this year. If you had a great Restaurant Week experience, please let me know so that I can try it out in the future. Thanks!

If you enjoyed this post, don't miss future ones! Please be sure to sign up for my email updates. (Also, if you're on Pinterest, let's follow each other.)