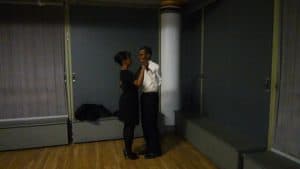 The last few months, we have spent a lot of fun times together as a family. However, my husband and I have not had our much anticipated monthly date nights. They have pretty much come to a standstill. That is why I happily agreed when a great PR friend reached out to me on behalf of Cottonelle Ultra's "Make the Ultra Switch" Sweepstakes to see if I wanted to "switch up" my date nights by planning and going on an "NYC Night on the Town" themed ultra date with my husband. My husband was also game after I assured him that participating didn't mean that I thought that there was something wrong in our relationship! After getting input from friends on Facebook, my husband and I settled on an Argentine-themed date. (My friends had so many great ideas that I'm going to do a separate post later this week on "ultra date night" ideas.)
We started off by taking a private tango dance class with Audrey Martinez at Dance Manhattan. She was the perfect teacher for us – talented but not too strict. She taught us the beat to step on, as well as the proper way to walk and two versions of the four-step. She also shared with us the #1 way to show that you are a beginner when dancing at a tango spot, which is to keep dancing once the music stops!
Reggie's thoughts: "It was easier learning the moves when I was doing them by myself rather than when I did them with a partner. I was afraid of stepping on your feet and bumping your knees. I actually did better when I was less concerned! Every time she said, "Good job" I got distracted and messed up though." (Personally, I think that he did great. The guys have the harder part in tango – leading. It was pretty easy for me to do the steps/follow. I just had a hard time not bouncing with my movements…it's the Tigger in me 🙂 ! He's cautious. I'm bouncy. We had fun, but I don't think that tango is "our" dance!
After the dance class, the Carey car service driver picked us up and drove us to dinner at Novecento. The food was amazing and plentiful. We started off by ordering a combination appetizer for two. In reality, there was enough food for four! The beef empanadas and chorizo sausages were our favorites. (I'm trying to get the recipe for the empanadas from the restaurant. If not, I have a really good recipe for empanadas that I have used in the past.)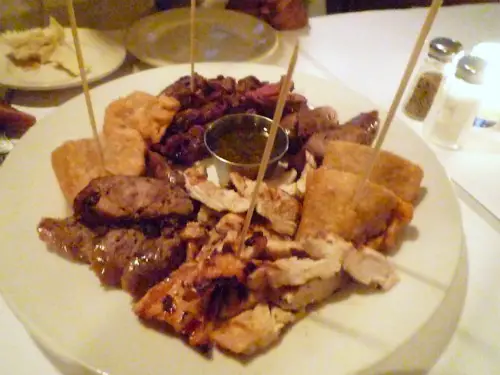 For the main course, I enjoyed both of our picks. Reggie chose the ribs and fries, thinking that they were American-styled ribs. They were not. Rather, Argentine ribs are more like a steak. Fortunately, it was very tasty and Reggie enjoyed his meal. I "borrowed" some of his fries…they were delicious. Meanwhile, my meal was a perfect choice. I had the tilapia with mashed potatoes, capers and fresh spinach. At first, I had to get used to the strong lemony taste. That was easy though and I thoroughly enjoyed my meal.
For dessert, I had a crepe. The crepe was filled with caramel and it had a scoop of ice cream and a strawberry garnish on the side. My only regret is that I was so full from the plentiful meal that I really couldn't eat most of my dessert. Note to self: dessert first!
After dinner, the car service drove us home. Since there was no school, the next day, we had allowed the kids to wait up for us. After devouring our leftovers and watching us dance together, the boys went to bed happy. (We need a break from them sometimes and vice versa it appears!)
In any event, we had a wonderful time on our date. Tango is a very close, in your partner's face style of dance, so it was nice to spend that intimate time with my husband. It was great, but we decided that we would try something a bit "bouncier" the next time – like swing dance. We have been married almost 9 years and we have done many things together, but we never thought about taking a dance class together(?!) I think that is the biggest "switch" that came from this date. Going forward, we will make more of a concentrated effort to do the things that we naturally like to do in an "ultra" way every few months or so. It was also just really great to have the time to talk and laugh kid-free over a dinner that someone else prepared! (That's nothing new though. Most of our dates include delicious food.) Overall, I would definitely give this ultra date the grade of an "A+"!
Be sure to check back the rest of the week. There will be an "ultra switch" giveaway; some other special date night ideas and an empanadas recipe in celebration of my special date. Meanwhile, I would love to hear about what you do to switch up things in your life (dating or otherwise)…
Thanks to Cottonelle Ultra for providing the car service and American Express gift cards to cover most of our date and childcare costs.