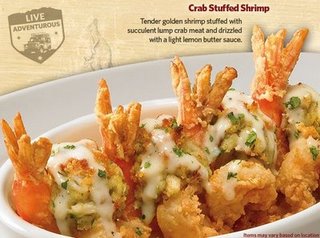 Back in 2009. I had partnered with Outback Steakhouse to share about the reinvention of their entire menu. Outback was even kind enough to share their crab stuffed shrimp recipe. You can still make the Outback-exclusive recipe for Crab Stuffed Shrimp (see below) to share with your friends and family.
Crab Stuffed Shrimp Recipe
Crab Stuffed Shrimp
Crabmeat Stuffing For Shrimp
-¼ pound Butter
-¼ pound Diced Onion
-¼ pound Diced Celery
-1 ½ tsp. Chopped Garlic
-2 Tbs. Sliced Green Onions
-¼ tsp. Salt
-1/8 tsp. Black Pepper
-1/8 tsp. White Pepper
-1 cup Bread Crumbs
-¼ pound Lump Crab Meat
1. Place sauté pan over medium heat. Place butter in the pan and allow to melt.
2. Place onions, celery, garlic, green onions, and seasonings in pan and cook for 6-8 minutes.
3. Place mixture into a blender and blend for 20 seconds. Caution: Mixture will be HOT.
4. Transfer mixture to a mixing bowl adding bread crumbs and drained crab meat. Fold in with
a spatula until blended.
Lemon Pepper Butter:
-½ cup Water
-2 Tbs. Flour
-1 ½ Tbs. Lemon Juice
-½ pound Butter
-1 tsp. Lemon Pepper Spice
1. Combine water, lemon juice, flour and seasonings in a sauce pan.
2. Over high flame, whisk until mixture thickens. Remove from heat.
3. Slowly add softened butter in small amounts until all is blended.
Cooking Shrimp:
1. Butterfly shrimp.
2. Place flour in a container and toss shrimp until completely coated.
3. Deep fry shrimp at 350 degrees for 1 1/2 minutes.
4. Place 1 Tbs. of hot stuffing onto each cooked shrimp.
5. Drizzle 1 Tbs. of Lemon Pepper Butter over each shrimp.
Serve and Enjoy!!!!!

If you found this recipe helpful, please share it. In addition, consider signing up for my weekly email newsletter so that you don't miss future updates. Thanks!
You Might Also Like: