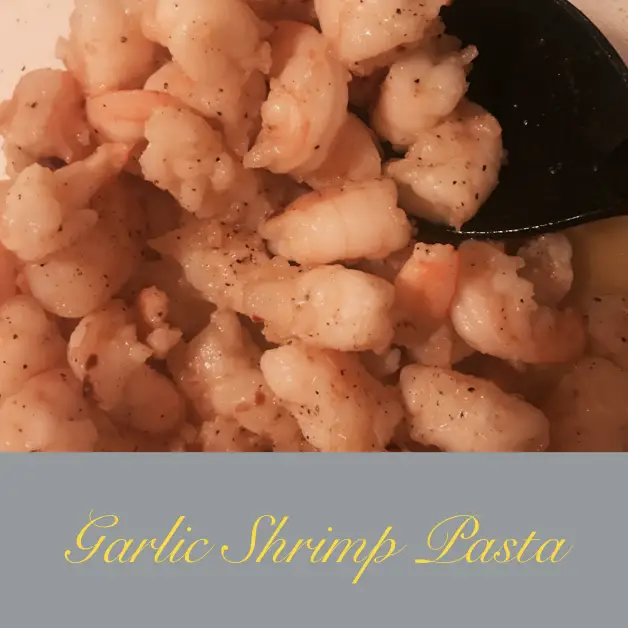 Garlic shrimp pasta is my husband and sons' favorite "Seafood Mondays" dish. They would have it every Monday if they could. (I just don't feel like cleaning shrimp every week.)

It is a really simple dish to make and preparing the shrimp with extra virgin olive oil instead of butter makes it healthier. In the end, the shrimp are just as flavorful so you won't even miss the butter. If your family likes the flavor and texture of shrimp, I'm confident that they will enjoy this quick and easy meal too.
Garlic Shrimp Pasta Recipe
Garlic Shrimp Pasta
4 Servings

Ingredients:
3 tbsp extra virgin olive oil
4 cloves garlic, minced
20 large shrimp (peeled, deveined and cut in half)
Sea salt to taste
Freshly ground black pepper to taste
1/4 tsp crushed red pepper flakes

Pasta
Directions:
Heat the olive oil in a medium sauté  pan.
Add the garlic and sauté  for approximately 1 minute over medium heat.
Add shrimp (that has been seasoned with salt and pepper) to the pan.
Sauté  the shrimp for 3-4 minutes.
Sprinkle the red pepper over the shrimp (if desired) before serving.
Recipe Notes
Prepare the pasta according to the directions on its packaging.
To prevent overcooked, "rubbery" textured shrimp, I turn the shrimp with tongs a couple of times while they are sautéeing. As an alternative, you can flip them once at the 2-minute mark.
If you cut shrimp in half when serving it with pasta, diners will have more bites of shrimp and the shrimp will have a better texture. (I learned that from Aquagrill's Chef Jeremy Marshall at a food blogging event over a decade ago.)
What Goes Well With the Shrimp?
I usually serve the shrimp and its sauce with pasta. Spaghetti is good but sometimes I will use angel hair, linguini or fettucini pasta to switch things up a bit. A salad rounds out the meal.
If I don't have pasta in the cabinet, I'll serve the shrimp with rice and roasted broccoli. It's tasty that way too.
Whichever way that you serve it, your family will be happy with this simple shrimp dish.
You Might Also Like