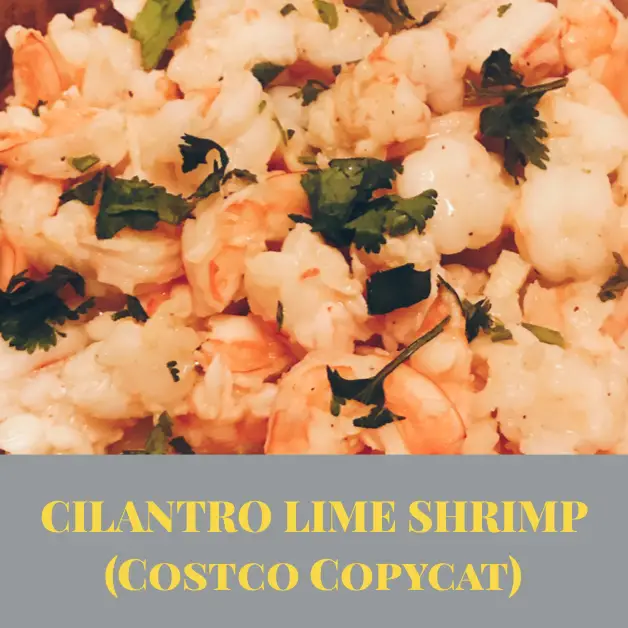 I don't currently have memberships to any of the major wholesale clubs because I don't buy things in bulk. I often hear of really great dishes that they sell though. For instance, Costco makes a delicious Cilantro Lime Shrimp dish that they sell in their deli. Thankfully, it's an easy dish to imitate. That is why I made this simple copycat Costco cilantro lime shrimp recipe. Enjoy!
Costco Cilantro Lime Shrimp Recipe (Copycat)
Cilantro Lime Shrimp
4 Servings

Ingredients:
2 tbsp extra virgin olive oil
2 cloves garlic, minced
1 1b large shrimp (peeled, deveined and cut in half)
1 small lime
1 tbsp cilantro, coarsely chopped
Sea salt to taste
Freshly ground black pepper to taste
Directions:
Heat the olive oil in a medium sauté pan.
Add the garlic and sauté for approximately 1 minute over medium heat.
Add shrimp (that has been seasoned with salt and pepper) to the pan.
Sauté the shrimp for 3-4 minutes.
Squeeze the juice from the lime over the shrimp and sprinkle the cilantro over the shrimp before serving.
5 Foods to Serve With the Shrimp
Pasta: Linguini or angel hair pasta are both great options.
Rice: I like basmati rice a lot.
Quinoa
Salad: My current favorite salad is simply baby spinach and avocado.
Taco Shells or Tortillas: This Costco cilantro lime shrimp recipe makes a tasty taco filling!
My family enjoys this copycat Costco cilantro lime shrimp recipe. It is quick, healthy and delicious so I think that your loved ones will enjoy it too. If you found this post helpful, please share it. In addition, consider signing up for my weekly email newsletter so that you don't miss future updates. Thanks!
You Might Also Like