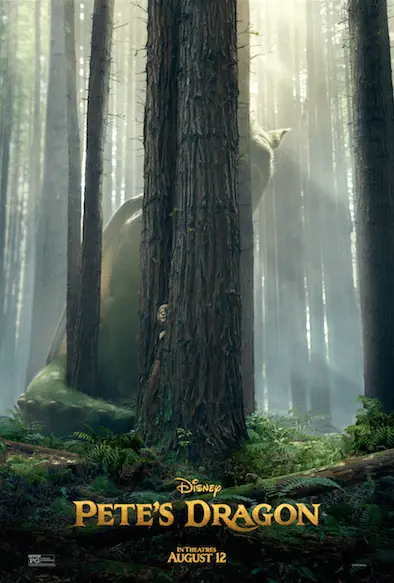 My 9 year-old son Sean and I went to see an advanced screening of Pete's Dragon 2016 a couple of weeks ago. I loved the 1977 original film as a kid so I didn't know what to expect. To my pleasant surprise, I ended up equally loving the new version…even though it is very different from the original.
While Elliott (the dragon) is animated in the original movie, the 2016 version has a green furry CGI dragon.  Elliott is a lot more clumsy and a bit of a troublemaker in the original movie. For
Pete's Dragon
2016, Elliott is more nurturing and takes really great care of Pete. In both versions, Elliott is protective, helpful and a great friend to Pete.
Pete is also very different in the 2016 version. In the 1977 Pete's Dragon DVD, Pete is an orphan who escapes from living with an awful foster family. Pete's Dragon 2016 starts off with young Pete on a family adventure with his loving mom and dad. A car accident leaves him an orphan. After saving young Pete from wild animals, Elliott takes care of Pete for six years in the forest until Pete is discovered by people from the local town.
Watching Pete's Dragon 2016 is more of an emotional experience than watching the original movie. Oakes Fegley, the young actor who plays the role of Pete, does an exceptional job. His howls during his separation from Elliott brought tears to my eyes. The bond was more than the friendship of the original movie. Pete and Elliott are more like family in the 2016 version.
I think that there is something for practically everyone to love in the 2016 version of Pete's Dragon. There are themes of friendship, family, sacrificial love and faith/believing in the unseen.  (Although the romantic love story between Nora and Paul and the "Candle on the Water" song  in the original don't fit in the new version, other variations of love are well represented.) I highly recommend Pete's Dragon 2016, which opened in theaters on August 12th, for families.