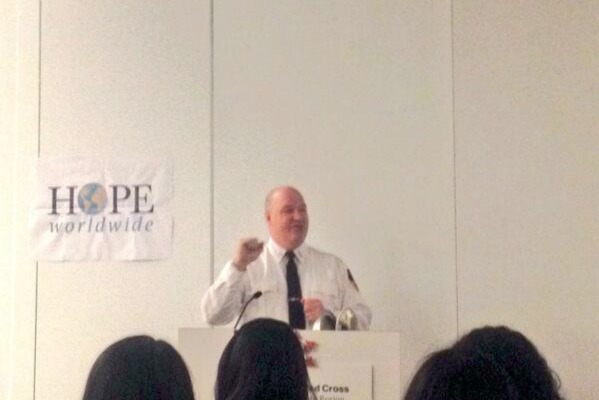 I mentioned that my family and I participated with Hope Worldwide in the Red Cross and HOPE Worldwide Martin Luther King Day Fire Safety and Disaster Prep Fair. During the day, we heard from Captain Anderson and Lieutenant Zitto from the Fire Department of New York (FDNY) who provided some really helpful advice. I am sharing the highlights below:
Electrical Fires
Read the warning labels on electric power strips. Don't trust that surge protectors will stop you from overloading them. While power strips are fine for plugging in lamps, electronic clocks and other small electronic appliances. they are awful for things like space heaters, microwaves, refrigerators and air conditioners. Those types of things should be plugged directly into the wall. A good rule of thumb is if it keeps you warm or cold then it should be plugged directly into the outlet.
Also, don't get creative and connect power strips to other power strips with adaptors. The combination of the heat source (by overloading the power strip) and the fuel source (created by the furniture that the power strip is on or near) can be a deadly mix. This is especially true in modern society because furniture today is not made like the furniture in the past. Most of it is no longer wood. it is foam or plastic. Since plastic is made out of petroleum, it catches on fire. It creates a hotter, faster , denser smoke because oil (petroleum) is burning. With that in mind, be careful not to overload power strips. Also, keep a little air around them. That means don't put the power strips underneath or super close to furniture.
Candle fires
Recently, there was a terrible fire in the Bronx where three children died. The kids were playing with candles…and any open flame is a possibility for a fire. Since fire starts with a spark or flame, consider using battery powered candles/electric candles. That is a simple way to avoid a whole category of fires. (Candle fires are the number five killer in the nation in regard to fires.)
Butane lighter fires
People talk about kids starting fires with matches but it is also important to watch out for butane lighters. They say "child resistant", so many people keep them in their home in easy to access places. Be careful with these lighter because most are not child resistant. (Kids are so smart!) Kids sometime play with them under the bed or in the closet and see what happens when they touch something with them. Note that in 90% of the fatal fires that were caused by children happened when there were adults at home with them, so be aware.
If you enjoyed this post, don't miss future ones! Please be sure to sign up for my biweekly email updates. (If you like getting updates as they post, you can follow me on Facebook or Twitter.) Thanks!