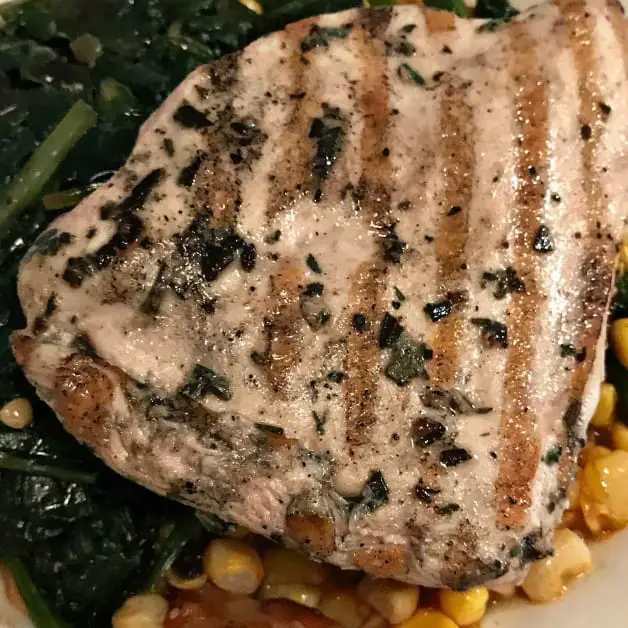 Recently, a publicist reached out to me about the Real Eats meal delivery service. To my knowledge, it's the first sous-vide meal delivery service so I wanted to share my honest Real Eats review.

Real Eats vacuum-seals the food in plastic pouches and then you place the pouches in boiling water to get restaurant-quality results at home.  
Since Real Eats features nutritionist-approved recipes by celebrity chefs (including one of my favorite chefs and school food activist, Bill Telepan) I decided to give the meal service a try. I was sent 3 meals to try out. It just so happened that I had friends over for dinner the day after the delivery so I used them as taste testers along with myself.
There were three meals that I prepared as we chatted – shrimp with white beans and pancetta, beef bolognese on polenta, and grilled chicken breast.  All three dishes were great but the beef bolognese was the breakout hit. (I'm "iffy" when it comes to polenta but the polenta with this dish was AMAZING. It tasted similar to smooth mashed potatoes!)
The shrimp dish was really great too…there were just a bit too many carrots. Lastly, the grilled chicken breast was also flavorful. It was just the least exciting dish because that is something that I could easily make at home. Overall, all 3 dishes received a thumbs-up. That is rare for me!
Real Eats Reviews: 3 Things That I Appreciate the Most
The ingredients (which are listed) are really healthy and natural. I am saving the menu because I will make the dishes for myself in the future.

The week's menu was quick and easy to prepare in addition to being delicious. If you can prepare boiling water without hurting yourself, then you can make these sous-vide meals.

It takes the guesswork out of dinner. This is a great thing for busy moms who want to provide healthy meals for their families.
Personally, I would only use meal delivery services for special occasions (like super busy work weeks; gifting a week of meals to a friend or loved one going through challenges; etc.).

I'm not the type of person (like my friend Jennie) who enjoys cooking just for the sake of cooking. I love feeding my loved ones by the work of my own hands though…especially since food is one of the things that "my guys" are most grateful about. (We used to do a "3 things that you're grateful for" daily dinner practice but it started to get repetitive because they would always list whatever I cooked/we ate for the day as one of their top 3!)
Since I can cook and they enjoy my cooking, it's not one of the things that I desire to outsource. Now, deep house cleaning…that's something else. I outsource that every opportunity that I get! 
In any event, if you desire a meal service (for yourself or loved ones) then Real Eats is a great option. For $45, you get 3 healthy, delicious meals delivered to your door. I think that's a reasonable price for the quality of dishes.

Real Eats is constantly offering discounts and special promotions for new customers. (Currently, everyone who subscribes to the Real Eats service also gets 3 free meals.) You can check out their current promotions and leave your own Real Eats review at realeats.com.
If you found this posthelpful, please share it. In addition, consider signing up for my weekly email newsletter so that you don't miss future updates. Thanks!
You Might Also Like: