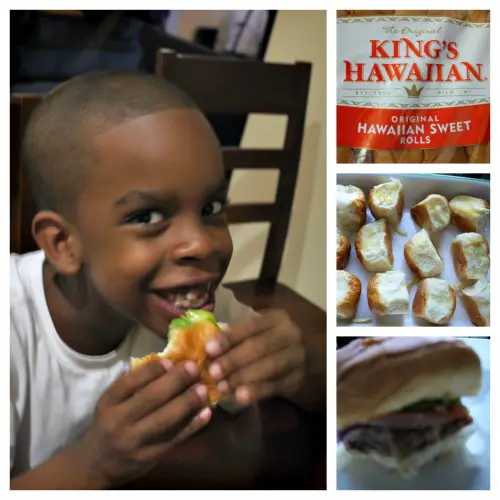 I love serving sliders to kids at outings. They fit perfectly into their little hands as they are on the go. I must admit that I enjoy them also. That's why I made this recipe for three meat sliders a version that both kids and adults will enjoy for dinner tonight. (I tried to give the kids an "early" 4th of July meal since we will be at a wedding on the actual day.) I rubbed some garlic and drizzled some olive oil on the King's Hawaiian Original Hawaiian Sweet Rolls; made the burger patties with three types of meat and topped it with avocado. When I served the sliders, my husband ate three and both of my sons ate two. They ate them so quickly that I barely had time to take a photo. I hope that your family enjoys them as much as mine did!
Recipe for Three Meat Sliders
Yield: 8 sliders
Ingredients:
Burgers
·      1 lb ground beef, pork and veal mix
·      1 tsp ketchup
·      1 tsp mustard
·      Seasoned salt and black pepper to taste
Buns
·      8 King's Hawaiian Original Hawaiian Sweet Rolls
·      2 cloves garlic, peeled
·      Extra-virgin olive oil (for drizzling)
Toppings
·      1 avocado, peeled, pitted and sliced
·      Optional toppings: cheddar cheese, romaine lettuce, tomato and red onion
·      Optional condiments: mustard, ketchup, and mayonnaise
Directions:
For the burgers
1. Preheat your grill or (frying pan).
2. Thoroughly mix the meat, ketchup, mustard, salt and pepper together in a large bowl.
3. Form 8 burger patties with the mixture.  The size of the patties should be a little larger than the rolls.
4. Grill (or fry) the burgers until they are cooked to your preference.
For the buns
1. Preheat your oven to 300 degrees Fahrenheit.
2. Prepare the rolls in the oven according to the package directions. (It will take   2-3 minutes for a softer crust or 4-5 minutes for a crisper one.)
3. Take the rolls out of the oven.
4. Separate the rolls and rub them with cut garlic cloves.
5. Drizzle (or brush) olive oil over the garlic rubbed rolls.
Place the burgers into the buns and finish with your desired toppings and condiments. Enjoy!

My favorite dish to share with my family is THEIR favorites. For my husband, it's apple pie. It's sushi for my older son and for my younger son it's burgers…so the slider recipe that I made with King's Hawaiian Original Hawaiian Sweet Rolls fits right in!
Now that I have shared one of my favorite recipes to share with a member of my family (Sean), it's your turn. What is your favorite dish to share with the family? Comment below and you'll be entered to win a $200 Grocery gift card from King's Hawaiian.
This is a sponsored conversation written by me on behalf of Kings Hawaiian. The opinions and text are all mine. Official Sweepstakes Rules.