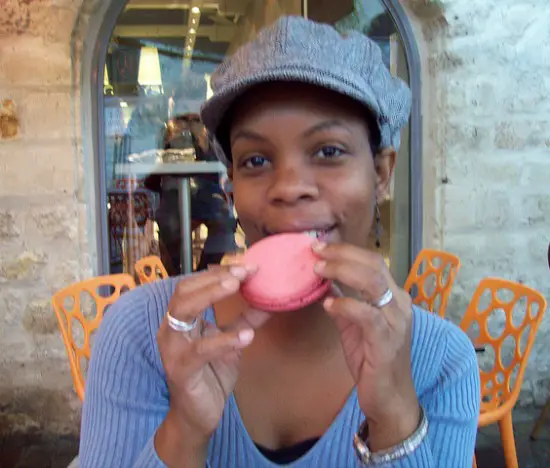 The focus of our trip was definitely the cultural attractions of Paris…not the food or shopping. However, a gal still has to eat. 🙂
Below, are my favorite foods (and drinks) of Paris:
Baguettes: I'm not even a big fan of bread. I can usually take it or leave it. However, I loved the warm (crisp on the outside while soft on the outside) French baguettes that were local favorites.
Fromage: The fresh fromage was similar to yogurt in the States. The locals ate it with fresh fruit toppings, so that is what I did. My raspberry fromage was exceptional.
Sandwiches on baguettes: Yes…back to the baguettes. La Parisienne (ham and cheese on a baguette) put my American ham & cheese sandwiches to shame.
French Fries: They were some of the best "frites" that I have ever tasted.
Hot Chocolate: Since I'm not a coffee fan, I had some of the best "boisson chocolate" ever!
Crème Brulee: I love crème brulee, but I had never had it served chilled…until I enjoyed it in a Paris café.
Macaroon: Before I went to Paris, my friend Nicole encouraged me to have a macaroon for her. I happily obliged and ate a raspberry one. It was amazing.
Pastas in cream sauce: Along with frog legs (which I did not eat), pastas in cream sauce seemed to be a staple on Parisian dinner menus. I had the most amazing lasagna with spinach in a cream sauce for dinner at La Fregate. Their lasagna was different than what I expected. Instead of lasagna noodles, the pasta tasted more like pastry puffs. It was one of the best meals that I have ever tasted.
I found the food in Paris to be an interesting mix of healthy and decadent choices. Bread was plentiful…but butter for bread was scarce. The coffee (which my mom drank) was super strong…but sugar and cream were not used in it as much. Meanwhile, heavy cream and butter were used in the various pasta dishes that I ate. Sometimes it worked (like with the lasagna) and sometimes it did not. For instance, I had spinach pasta in a cream sauce that just sat heavily on my stomach. Overall, I really enjoyed the food in Paris. The only thing that I did not get around to eating was a crepe. What can I say? When given the option, I chose crème brulee. I LOVE crème brulee!
Get the flash player here: http://www.adobe.com/flashplayer