In January, there were a gazillion different lists regarding moms who blog. You all know that while I think lists are subjective, I love to see moms get recognition for their hard work. Believe me, the vast majority of moms who are listed (on positive lists!) work hard – whether people think so or not.
I know that my core readers (from back in the offline Mom in the City mom group days) are not huge blog readers. That's alright. I wasn't either until I started using the blog format. Now that I am an avid blog reader, there are many blogs written by moms that I read. I lean more towards informative type blogs since I'm an information junkie. However, I do read many "slice of life" type blogs written by people whom I know/whose kids I have met in real life…simply because I care about them and want to know what's going on in their lives.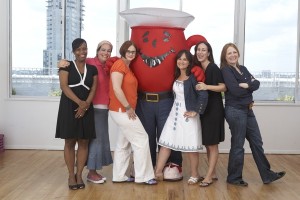 Photo courtesy of Role Mommy/taken by photographer Jade Albert
In honor of February, the month of "love", I want to share with you my favorite blogs that are written by New York based moms. These are the women whom I love to be around. Their blogs are as varied as the women behind them. Some have been blogging for many years while others are up and comers. One thing that they all have in common is that it puts a smile on my face when I see that they have RSVPd "Yes" to an event that I will be attending. They are the women who make my blogging work "fun". I "heart" them. Did I mention that this will probably be the most diverse – race/religion/blogging style, etc.- mom blogger "list" that you will probably see? (That's one of the main reasons that I love living in New York.)
Anyway, I will be explaining the reasons that I think you should visit each of their individual blogs over the remainder of the week. Meanwhile, here's the list (in alphabetical order – I can't rank how much I like each of them!):
1. Amy Oztan (Selfish Mom)
2. Ana Fader (Mommy Poppins)
3. Beth Feldman (Role Mommy)
4. Carol Cain (NY City Mama)
5. Emily McKhann (The Motherhood)
6. Esti (Primetime Parenting)
7. Isabel Kallman (Alpha Mom)
8. Issa Mas (Your Single Parenting)
9. Jennifer Perillo (In Jennie's Kitchen)
10. Katja Presnal (Skimbaco Lifestyle)
11. Kelcey Kintner (The Mama Bird Diaries)
12. Kristina Brooke (Mom on the Rise)
13. Linda Grant (New York City Single Mom)
14. Lisa (New York Chica)
15. Liz Gumbinner (Cool Mom Picks and Mom-101)
16. Marinka (Motherhood in NYC)
17. Melissa Chapman (MANY sites. She's the "hardest working" freelance writer that I know!)
18. "Ms. Latina" of Latina on a Mission (I know her real name, but I'll let her tell you. She has a day job!)
19. Nancy Horn (Mommies with Style)
20. Nichelle Pace (STYLEMOM)
21. Nicole (Parentville)
22. Nicole Feliciano (Mom Trends)
23. Nora Phemister (Chittypulga)
24. Nikki (Euphoria Luv)
25. Suzanne Chan (Mom Confessionals)
26. Vera Sweeney (INO Mommy)
27. Victoria Pericon (Veep Veep)
28. Wendy (Babies Gotta Have It)
29. Yakini (The Prissy Mommy Chronicles)
30. You can fill in the blank. (I am sure that I am missing a great NY based mom blogger. Who is she?)
Did I mention that this list is no way near being comprehensive? (I can't list every great NYC area blog or there goes one of my blog consulting income streams, right?) There are also several amazing bloggers that I adore who come in from NJ and CT. I'll have to share about them on a later post OR they will just need to move to New York. Smile.