Choosing the items for this year's Valentine's Day Gift Ideas posts were fun. This year, I sifted through hundreds of emails and came up with my top 15 items from New York businesses. They just so happen to fall into my personally favorite categories – food, stationery and unique gifts. I also included 2 extra "by association" items. I think that you will agree with them. In any event, I'll start with food (of course!)
I am a foodie and I probably always will be. My motto is "everything in moderation". If I were to receive Valentine's Day treats from the following companies, I would have to practice some serious self-control!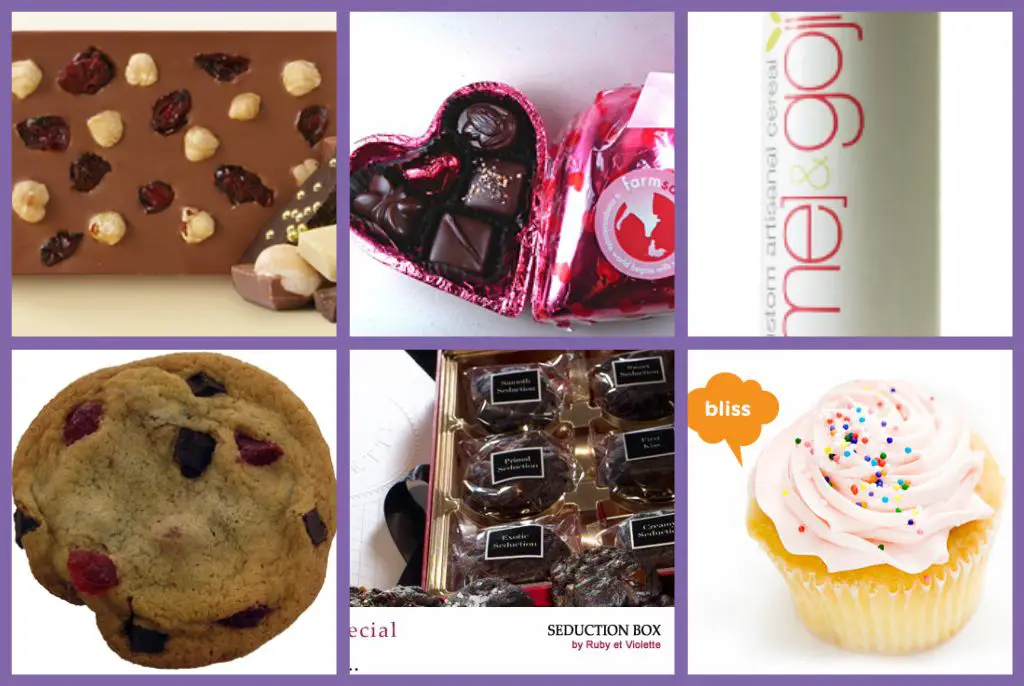 1. chocri customized chocolate bars: What can make chocolate better? I'll tell you – customizing your own chocolate bars and letting someone else hand-make them. If the 10 billion+ possible combinations don't convince you, how about the "feel-good" knowledge that you will be purchasing organic, fair trade chocolate? I thought so…
2. Farm Sanctuary: Speaking of "feel good" chocolate, how about this beautifully packaged box of vegan chocolates. (This would make an especially thoughtful gift for animal lovers since Farm Sanctuary is a farm animal protection organization. All proceeds go to support the non-profit's work to protect farm animals from abuse.) Did I mention that their chocolates are organic, fair trade, dark chocolate? Healthy AND helpful – that is a great combination!
3. [me] & goji: I have been wanting to highlight this NYC-created company for a while. This is the perfect time. It's hard to believe, but some people don't like chocolate and candy. Custom artisinal cereal and granola from [me] & goji is a great treat option for them (and everyone else-since customized cuisine is a big trend this year). It's kind of like a cereal/granola salad bar. You get to pick and choose what you want from 50+ natural, organic ingredients. The company hand-mixes it and sends it to you in a cool-looking cereal capsule.
4. Park 19 Cookies: With flavors like "Strawberry Dark Chocolate Chunk", it is not a big surprise why these made from scratch cookies are such a hit!
5. Ruby et Violette: This NYC cafe has a reputation for producing some of the most indulgent cookies, brownies and food gifts.
6. Street Sweets: Unlike the other food gifts, you actually have to live in NYC to enjoy Street Sweets treats. Their create-your-own croissants — filled with your choice of pastry creams like mocha, praline, chocolate, and such – receive the most critical acclaim. They also have cookies, cupcakes, muffins and a variety of other baked goods – all made with natural ingredients. The unique twist is that they travel around selling their goods on a mobile bakery/ "Street Sweets truck". If you are in the area, you can look to see where their truck will be traveling next on Twitter or on their site.
Be sure to check back on Thursday for "Gifts" ideas and Friday for "Stationery" and "NY By Association" gifts.
What are you favorite food gifts (to give and/or to receive)?